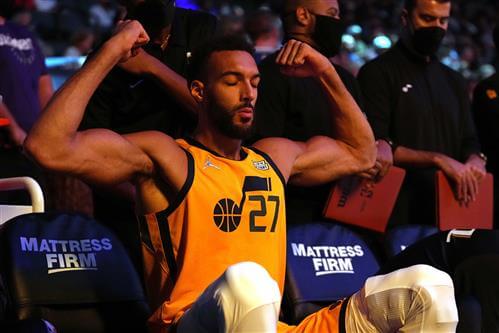 Baseball's trade deadline looms in little more than a month. As far as trade targets, the usual suspects have already emerged. Consider the Nationals' Josh Bell, who is in the midst of a career season just as teams begin zeroing in on impact bats. He is a veteran on an expiring deal — precisely the kind of player who is almost certainly going to be moved.
However, as The Athletic's baseball experts identified one tradeable player from each of the 30 teams, a few focused on candidates who might not be so obvious. They include a former prospect who has lost some of his shine and a few good players who also come with plenty of team control.
Arizona Diamondbacks: Zach Davies
David Peralta may be the most obvious candidate, as he's a notable name on an expiring deal, but his market could be muted. Teams are always looking for starting pitcher depth, however. Zach Davies is on a one-year, $1.75 million deal and has a 3.94 ERA in 15 starts. He's pitched at least six innings in his last four starts. He'll help a team survive into the postseason.
Atlanta Braves: Kyle Muller
In about half of his 10 big-league outings, including nine starts, Kyle Muller has shown the potential to be a mid-rotation starter or better. He's still a solid prospect though the hard-throwing 6-foot-7 lefty has fallen far behind young Braves starters Kyle Wright and rookie Spencer Strider. With Max Fried, Kyle Wright and Charlie Morton in the top three spots, and Mike Soroka expected back from a twice-torn Achilles in August, the Braves might have a surplus of starters. The 24-year-old Muller's value could decrease if they keep him another year without a major league rotation spot. He's made one MLB start this season and otherwise toiled in Triple A, where he has a 2.96 ERA with 99 strikeouts and 23 walks in 76 innings.
Baltimore Orioles: Trey Mancini
Trey Mancini is 30 and a free agent at the end of the season, meaning he is not part of this rebuilding team's future. He is a first base/DH type who can play the outfield in a pinch. But the Orioles are stacked in the outfield at the major- and minor-league levels and Ryan Mountcastle has settled in at first base. So, Mancini would be an expensive DH if the Orioles wanted to extend him, and there hasn't been a lot of movement on that end. Still, he has a productive bat and is one of the most respected leaders/players in the game.
Boston Red Sox: Connor Seabold, Jarren Duran
Even in contention, it's doubtful the Red Sox want to move any of their top-five-or-so prospects, but they're suddenly deep in upper-level starting pitchers. They could dip into that redundancy at the deadline. Connor Seabold has been terrific in Triple A, but the Red Sox could move him — to bolster the bullpen, perhaps — without much risk of becoming short-handed. They could go bigger (Triston Casas, Brayan Bello, Jarren Duran) but for an organization that's walking the line between present and future, someone like Seabold might be easier to dangle. Smaller immediate return, but also less long-term risk. 
With Kiké Hernández on the injured list, Duran has been on a hot streak the last few weeks with the big-league club. He's the type of player the Red Sox could flip for a back-end reliever the team could use down the stretch. Last year, chief baseball officer Chaim Bloom traded Michael Chavis to Pittsburgh in exchange for reliever Austin Davis so a similar move is certainly a possibility. 
Chicago Cubs: David Roberston
The Cubs are obvious sellers and every player on an expiring deal is up for grabs. Closers are always hot commodities at the deadline and David Robertson is a veteran who has thrived in the heat of playoff races while in the biggest market in baseball. He is in the midst of a huge bounce-back season. For the second summer in a row, the Cubs will be moving arguably the best closer available at the deadline. As long as he stays healthy and productive, the Cubs are expecting a real strong return for him. 
Chicago White Sox: Lenyn Sosa
The 22-year-old infielder has crushed Double-A pitching this season enough to earn his major league debut. But Lenyn Sosa is more of a player development triumph than the sort of tools monster for which the Sox tend to carve out long-term roles. As much as they need a second baseman now and in the future, they don't seem quite ready to hand the position to Sosa in 2022 yet, and are light on near-major-league-ready pieces to shop around. This is dependent on the Sox rebounding as planned, in a season where nothing is going according to plan. A soft sell can't be discounted if they're going to keep losing home series to the Baltimore Orioles. 
Cincinnati Reds: Luis Castillo
There will be no better starter on the trade market than Luis Castillo. The 29-year-old right-hander is under team control through the 2023 season but the Reds' window doesn't appear it'll be open next year. While teams have been drooling over Castillo for years now, it seems this is the time to maximize the return. — C. Trent Rosecrans