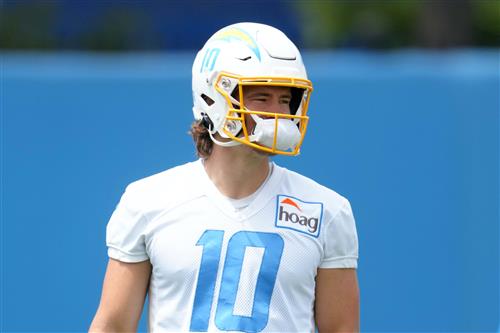 Kyler Murray became the latest quarterback to receive a massive contract, agreeing to a five-year, $230.5 million deal that makes him the second-highest-paid player in the NFL in terms of average annual value. Murray's total contract amount is the third highest in the NFL while his $160 million guaranteed is the second most in NFL history. 
While Murray's deal didn't reset the market like Deshaun Watson's fully guaranteed $230 million deal did earlier this year, it set a barometer for what franchise quarterbacks will be seeking in the coming months. There are quite a few quarterbacks that are set to cash in with massive contracts, whether that will be prior to this season or this coming offseason. 
Which quarterbacks are in line to receive that franchise-altering extension? With Murray signed, sealed, and delivered, these are the quarterbacks to keep on the lookout to land a new contract over the coming months.  
Lamar Jackson
Jackson is the franchise quarterback from the 2018 draft class that hasn't signed a long-term extension yet, playing out his fifth-year option with the Baltimore Ravens at $23.016 million. Josh Allen signed his deal (same draft class as Jackson) at $43,005,667 per season in 2020 (which is currently the fifth-highest-paid contract in the NFL). 
Jackson is expected to get a much higher salary than that thanks to the Watson and Murray deals this offseason, banking on himself to get a top three salary of his own. All Baltimore has done is win since Jackson became the starting quarterback in Week 11 of the 2018 season, as the Ravens are 37-12 during that stretch. Jackson is also the first quarterback in NFL history to reach 35 regular-season wins before the age of 25. 
Jackson has completed 64.2% of his passes for 9,880 yards with 83 touchdowns to 31 interceptions (98.0 rating) since becoming the Ravens starter — while rushing for 3,564 yards and 20 touchdowns on the ground. He's the fastest quarterback in league history to reach 5,000 passing yards and 2,000 rushing yards (35 games), and his 10 100-yard rushing games are tied with Michael Vick for the most in league history. 
Whether Jackson gets paid by the Ravens is to be determined, but a massive contract is coming. Perhaps that mega deal comes in the coming weeks. 
Justin Herbert
The talented quarterbacks from the 2020 draft class are entering their third season, meaning the countdown is on for their massive extensions. Herbert is a record-setting quarterback after his first two seasons, so it's a matter of "when" the Los Angeles Chargers and Herbert agree on a long-term deal.