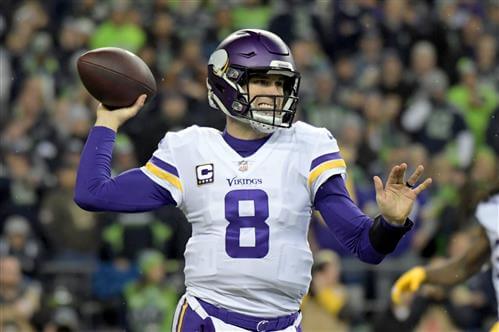 If the Minnesota Vikings were to move on from Kirk Cousins some time in the near future, this offseason may be the best time to do so. In such a scenario, it may not necessarily help the Vikes contend right away under their new regime, but it could put them on a more prosperous path long-term by getting out from under his contract.
One of the teams who could have a great amount of interest in adding Cousins to their team, with the $45 million cap hit and all, is the Carolina Panthers. They've even reportedly already called new general manager Kwesi Adofo-Mensah about a potential trade.
Here are three Kirk Cousins to the Carolina Panthers trade scenarios that could come to fruition later this offseason.
Kirk Cousins to Carolina Panthers in salary dump
Minnesota Vikings get: 6th pick, 2023 2nd-round pick
Carolina Panthers get: Kirk Cousins, 12th pick
One of the ways of thinking for the Minnesota Vikings, if they seek to clear cap space, basically in an effort to help them compete in the near future is to dump the contract of Kirk Cousins this offseason.
This would allow the Vikings to clear up to $35 million in cap space, to which they could re-allocate to address other roster needs.
Kirk Cousins contract (2022): $35 million guaranteed, $10 million bonus = $45M cap hit
Each year teams do their due diligence on the incoming quarterback prospects and it could just be that the Vikings have a great interest in one of the top QBs available via the draft. If that's the case, the Vikings would be better off washing their hands of Cousins right now and propping up the roster around their new rookie quarterback, whoever that may be.