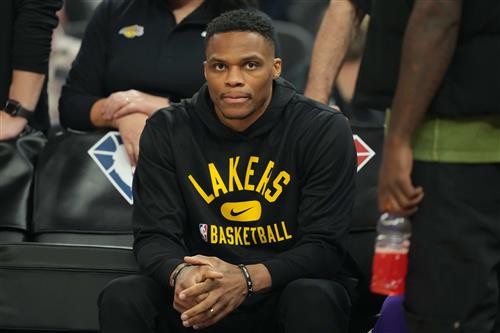 The 2022 NBA trade deadline, NBA draft and heart of free agency have all come and gone, and the Lakers still have no resolution on their Russell Westbrook problem.
There are no easy solutions, and many uneasy questions.
Should the Lakers do whatever it takes to trade him? Can they open the 2022-23 season with Westbrook in their starting lineup? How about off the bench? Or should they give him the "John Wall treatment" like last year's Houston Rockets, who paid Wall a maximum salary to sit out the season?
These questions were sent far and wide to a variety of NBA figures, from executives to agents to fellow colleagues in the media. The diversity in answers only emphasizes the quandary the Lakers face moving forward.
Trade Westbrook? At What Cost, and for Whom?
Ahead of February's trade deadline, the Lakers were looking to find Westbrook a new home. So far, they haven't found a viable solution.
L.A. has talked to teams like the Brooklyn Nets about Kyrie Irving and the Indiana Pacers for a combination of Myles Turner and Buddy Hield. As things currently stand, there's no deal to be had, though there's still plenty of time for that to change before the start of the season.
"First, I'd swing for the fences in a trade," an NBA media analyst said. "The ones I've heard for Kyrie with a shooter or Turner and Buddy seem unrealistic, but they should go for it. I'd do as many picks as needed to make a deal happen, as long as they have top-10 protection."
Should the Lakers really be giving out unprotected or lightly protected first-round picks in 2027 and 2029, years after the contracts of LeBron James and Anthony Davis expire? Is Irving—the most talented of the names mentioned—reliable enough for L.A. to rely on?
"The Lakers are pot-committed," the analyst continued, referencing a poker situation where a player lacks leverage after making aggressive early bets. "I'd do those two picks for Buddy and Turner. I like that more than Kyrie. That dude flat-out frightens me. But I'd take him over the pie-in-the-sky-let-Russ-cook option."