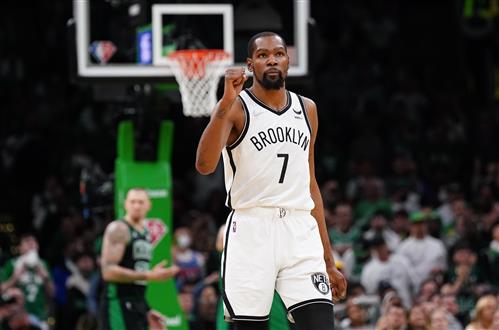 The specter of a handful of high-profile trades will not allow this offseason to rest.
Even with the draft done and free agency mostly in the rear view, potential moves for Kevin Durant, Russell Westbrook, Kyrie Irving and Donovan Mitchell are looming.
And in the wee hours of Monday morning, ESPN's Adrian Wojnarowski stirred things up with a report on another team seemingly entering the fray for KD.
Despite a run to the Finals with 24-year-old Jayson Tatum and 25-year-old Jaylen Brown, the Boston Celtics may be willing to part with the latter for the 33-year-old Durant.
"The Celtics offered Brown, guard Derrick White and a draft pick to the Nets for Durant," Shams Charania wrote for The Athletic. "The proposal was rejected, and Brooklyn has asked Boston—in any proposal—to include Brown, Defensive Player of the Year Marcus Smart, draft picks and potentially one more rotation player."
Is it worth scrapping the timeline for a superstar entering his mid-30s and coming off three injury-plagued seasons? For the right price, perhaps.
A package that works for both of those teams, as well as trades for the other stars mentioned up top, are below.
Celtics Speed Things Up for Kevin Durant
The Trade: Kevin Durant for Jaylen Brown, Marcus Smart, a 2025 first-round pick, a 2027 first-round pick swap and a 2029 first-round pick swap
There are some glaring issues on the optics front here. Durant is eight years older than Brown. He's played in only 90 games over the last three seasons and has an Achilles rupture in his history.
And perhaps most difficult to overcome, we're only three months removed from Durant's Nets being swept by Brown's Celtics.
After enduring years of meme treatment for joining the 73-win Golden State Warriors in 2016, being traded to a team that just beat his team will draw ruthless mocking and criticism.
Of course, this one is less in his hands than the free-agency decision he made six years ago. Any trade will likely have some level of approval from KD, but Boston wasn't among his earlier reported preferred destinations.
And assuming he can stay on the floor, he and Tatum would be among the game's most dangerous offensive duos.
The age gap between Durant and Brown is a significant concern, but the former is almost certainly the better player in the short term.
Is that difference big enough to justify giving up on the future, though?
Boston was already sitting in pole position (or at least close to it) in the East, just by bringing everyone back. And with Tatum and Brown as your top two, you have the potential to contend for around a decade. Swapping Brown for Durant opens the window wider, but it shortens the amount of time it'll stay that way.
The Celtics have certainly considered all of that already, though. Pushing their chips in for KD would make the Milwaukee Bucks less of a worry. Ditto for the Philadelphia 76ers. And it'd probably eliminate the Nets from the analysis for the foreseeable future.
Losing Smart is a big deal too, but the addition of Malcolm Brogdon for a pick and fringe rotation players softens that blow. And Boston could probably get away with adding fewer picks than most teams, since its package includes a 25-year-old All-Star.