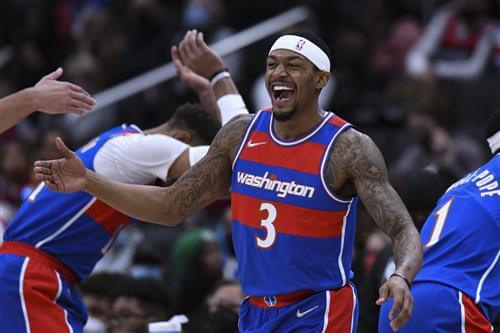 The Portland Trail Blazers, contrary to popular belief, are not rebuilding as the NBA offseason approaches. They're not crying: you're crying.
Fans of the team could be forgiven for shedding a tear this season. They swapped out several key veterans in exchange for a combination of draft picks and young players. That may sound like a team initiating a rebuild, but it seems like the goal is to retool around Damian Lillard for another run next season.
It seems as if the organization is hoping to package those players and picks for a win-now player or two. Would Bradley Beal move the needle in Portland?
There's a case against him. The Blazers pulled the plug on the Lillard/McCollum backcourt. Why would they pair Lillard with another score-first, defensively questionable off-guard?
Well, there are several reasons. Beal is a little bigger and stronger than McCollum. He may not be a high-level defender, but he's still more useful on that end.
More importantly, he's just a little better. If he's a player the Blazers are targeting this offseason, here are two deals they could offer the Washington Wizards in exchange for him.
Washington Wizards Receive: G Eric Bledsoe, F Josh Hart, 2022 First-Round Pick (POR), 2025 First-Round Pick (POR), 2022 Second-Round Pick (MEM), 2025 Second-Round Pick (DET)
Portland Trail Blazers Receive: G Bradley Beal
In this package, the Portland Trail Blazers are hoping draft capital is enough to pry Bradley Beal away from the Washington Wizards. Given that they'd surely be rebuilding in this scenario, they may be right.