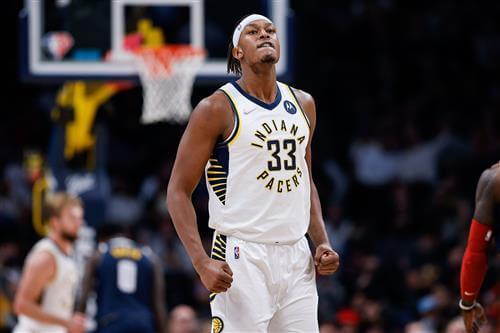 For what has been three seasons now, the Indiana Pacers opted to break up the frontcourt tandem of Domantas Sabonis and Myles Turner by making a deal with the Sacramento Kings for Tyrese Haliburton. As the team rebuilds, is Turner going to be around long-term ahead of the NBA offseason?
Myles Turner is a clean fit in many situations around the NBA. He has filled a complementary offensive role throughout his NBA career but still offers key upside as a play-finisher playing a traditional center role on a different team, not alongside another big man.
The Pacers opted not to move on from Turner at the NBA trade deadline, but he will be in the final year of his current contract in 2022-23. Could he find himself being on the move if he doesn't get a long-term deal done with Indiana?
While the injury is indeed not a fracture and instead is a stress reaction, the Pacers' non-existent outlook to contend for a playoff spot has resulted in him being ruled out for the remainder of the season.
Indiana will need to determine if Turner is a long-term fit alongside Haliburton and Chris Duarte. Neither player is an efficient finisher at the rim, which promotes drop coverages and switching. Turner will need to make a significant impact as a short-roll threat when Haliburton is getting blitzed and attack mismatch after switches.
With that being said, let's dive into some logical potential suitors for Indiana Pacers center Myles Turner in the offseason that should monitor his availability.
Toronto Raptors
It's no secret the Toronto Raptors worked hard to make an upgrade at the center position ahead of the NBA trade deadline, but they couldn't get the job done. They have even been linked to Myles Turner before his foot injury.
There is little reason for the Raptors to relent in their pursuit of Turner. Between Pascal Siakam, Scottie Barnes, and OG Anunoby, the team has forwards that like to play in the mid-post using their size or strength, often against matchups that lack those tools.
For a team with talents of that nature, there appears to be a real need to add a center that can step out and knock down catch-and-shoot jumpers. Myles Turner can do precisely that, along with plenty of other layers of impact as an off-ball threat.