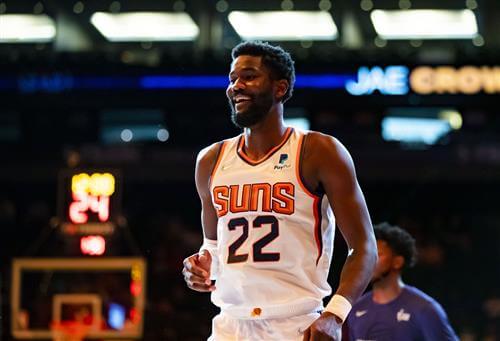 The Phoenix Suns are the best team in the NBA this season and it should not be surprising to see them reach the NBA Finals for the second consecutive year in search of their first NBA title. 
However, the offseason is going to be a very busy time for them, even if they do ultimately win a title this season. Devin Booker and Chris Paul are under contract long-term, so the Suns have nothing to worry about in regards to the best backcourt duo in the NBA right now, but former No. 1 overall pick Deandre Ayton is set to become a restricted free agent. 
Ayton and the Suns failed to reach an agreement on a contract extension prior to the start of this season, as Deandre Ayton was expecting to receive a five-year, $172 million deal from Phoenix due to his contributions in the NBA Finals and proving that he is just as important to this team as their two All-Star guards, according to ESPN's Adrian Wojnarowski. 
Phoenix was not willing to invest this much money into Deandre Ayton, which has sparked some rumors about what the future may hold for the high-level center. 
At just 23-years-old, Deandre Ayton has proven to be a Top-10 center in this league and he was one of the main reasons why the Phoenix Suns found a lot of success in the playoffs last season. 
Not only did he average 36.4 minutes per game in the playoffs for the Suns, but in his first playoff run ever, Ayton averaged 15.8 points, 11.8 rebounds and shot 65.8% from the floor. The young center also recorded 14 total double-doubles across the entire playoffs. 
The Suns will have a good shot at bringing Deandre Ayton back in free agency given that he is a restricted free agent, but this will definitely not stop teams from pursuing him. 
Not many high-level big men like Ayton become available on the free agent market every season, which is why his value is going to be extremely high. 
There are a handful of teams around the league that will be looking to upgrade their talent at the center position in the offseason and as a result, the Phoenix Suns could have their hands full with trying to retain Deandre Ayton at a smaller price than what he is asking for. 
Here are the three teams that should already be thinking about Deandre Ayton's pending free agency this upcoming summer. 
Phoenix Suns
Obviously the number one team that should be concerned and focused on signing Deandre Ayton this upcoming offseason is the Phoenix Suns. 
They are the team that drafted Ayton first overall in 2018 and he has meant so much not only to this fan base, but to the other 14 players in the locker room as well. 
Devin Booker and Chris Paul are undoubtedly the leaders of this Suns team, but Ayton is a guy that leads by example and really is the "security blanket" for this group.