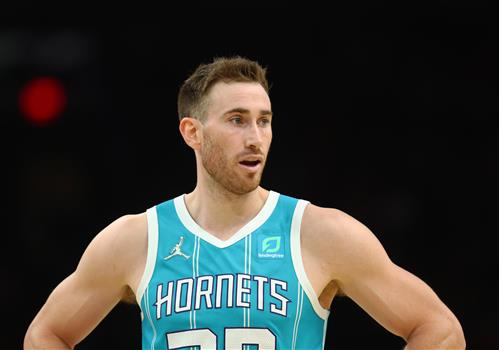 The Charlotte Hornets have been a very up-and-down team this NBA season, but they are still on the verge of making the playoffs for the first time since 2016. For years now, the Hornets have been looking to put the right pieces together in order to build a sustainable, high-level team and it seems like they finally have the formula for success at hand. 
Miles Bridges has been having a breakout fourth-year in the NBA on the wing and with a strong backcourt duo in LaMelo Ball and Terry Rozier, Charlotte currently resides 9th in the Eastern Conference standings and just one game back from the 8-seeded Brooklyn Nets.
One of the better offensive teams in the league, the Hornets have found a lot of success on the floor this season, yet they have struggled as of late with veteran Gordon Hayward out of the lineup.
Hayward has not played since Feb. 7 due to a left ankle sprain and since then, the Hornets have gone 3-6. 
Getting Gordon Hayward back and healthy near the end of the season is going to be critical for the Hornets if they are to make a serious push at the playoffs this season, but his future in Charlotte is going to be up-in-the-air heading into the offseason. 
The veteran has meant a lot to this young Hornets team, however, he is going to be making $30 million next season and is under contract through the 2023-24 season. 
The idea of trading Gordon Hayward while he still holds value could make a lot of sense for the Hornets not only because Hayward is 31-years-old, but because they have to deal with signing Miles Bridges to a new long-term, high-paying contract, and the team would like to remain below the luxury tax threshold. 
Win or lose this season in regards to making the playoffs, the Hornets will have some tough offseason decisions to make, starting with the future of Gordon Hayward. 
Should they open up trade discussions with teams around the league for Hayward, these three teams could show a level of interest in the veteran forward. 
Atlanta Hawks
Just several months after making the Eastern Conference Finals, the Atlanta Hawks find themselves 30-32 on the season, currently tied with the Hornets in the Eastern Conference standings and in the play-in tournament range.