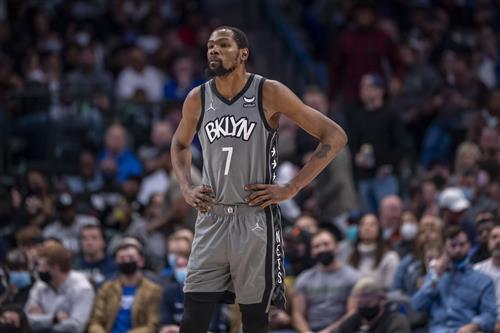 Now two weeks after he first requested a trade from the Brooklyn Nets, 12-time All-Star Kevin Durant has yet to find a new home.
A trade to his two preferred destinations, the Miami Heat and Phoenix Suns, are extremely difficult given Miami's lack of resources to land him and the Nets' inability to take back Deandre Ayton in a sign-trade-from Phoenix given the hard-cap implications.
ESPN's Brian Windhorst noted that, "the price tag for Durant may not be as high as the Nets wanted" and that the situation is turning into a "stalemate." The pressure is on to get a massive return for Durant while also doing right by the superstar and putting him in a situation where he can still compete for championships.
While trade packages with teams like the Toronto Raptors, New Orleans Pelicans, Golden State Warriors and others are floating all around the internet, there's one blockbuster deal we've all been overlooking.
What if Durant and LeBron James were to trade places?
That is to say, a deal based around Durant and James, two of the top five players in the NBA today, would actually work out well for both stars and their new respective teams. While all parties (Durant, James, the Nets and Lakers) would have to agree to such a massive transaction, here's why it actually makes sense.
Why the Nets Make the Trade (and LeBron James Approves):
Clearly, the return for Durant isn't what Brooklyn was hoping for if no deal has been made at this point.
The Nets aren't interested in rebuilding, however, and have spent the summer adding some key pieces by trading for Royce O'Neale from the Utah Jazz, signing T.J. Warren away from the Indiana Pacers and giving new deals to starting center Nic Claxton and key reserve Patty Mills.
With James "rooting hard" for the Lakers to land Kyrie Irving (via Marc Stein), he would now get his wish by rejoining his former teammate. In three years together, James and Irving reached the Finals three times, won a championship and became the first pair of teammates in history to each record 40 points or more in a Finals game.