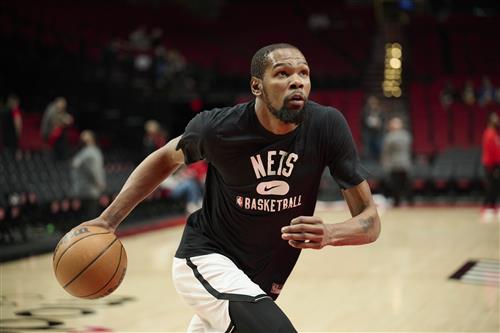 Kevin Durant grew closer with Damian Lillard last suymmer while leading Team USA to gold at the Tokyo Olympics, and still has a public, personal affinity for the Pacific Northwest well more than a decade after being drafted by the Seattle Supersonics. Still, odds of the two-time Finals MVP putting the Portland Trail Blazers on his wish list of potential new teams should he actually leave the Brookyn Nets seem pretty unlikely.
Good thing Damian Lillard and Jusuf Nurkic are already openly recruiting him to Rip City, then. As rumors continue swirling about the Nets' dissolution amid acrimonious contract negotiations with Kyrie Irving, the Blazers' franchise player and longtime starting center made direct appeals to Durant on social media.
Neither Lillard nor Nurkic specified, though, what Portland would give up to make their dreams of teaming with in 2022-23 become reality.
Disclaimer: The likeliest outcome is Durant remaining with Brooklyn beyond this summer, and there's never been an inkling that he has interest in playing for the Blazers. But if Irving really does bail on Brooklyn and Durant asks out, the Nets could certainly do worse to hasten a sudden rebuild than the best trade package Portland could offer.
Blazers best Kevin Durant trade offer
Nets: Anfernee Simons (sign-and-trade), Shaedon Sharpe, Eric Bledsoe and top-five protected 2026, 2028 first-round picks
Blazers: Kevin Durant
Portland's justification doesn't need much further explanation.
Any team featuring Lillard and Durant would be title a contender with the right supporting cast, and Jerami Grant, Josh Hart, Nurkic and Nassir Little provide a solid one in this glorious theoretical scenario. The Blazers would need additional depth in the backcourt to keep Lillard fresh and could use an athletic or floor-spacing third big off the bench, but would immediately vault toward the top of the Western Conference based on that collective star power and and lineup versatility alone.