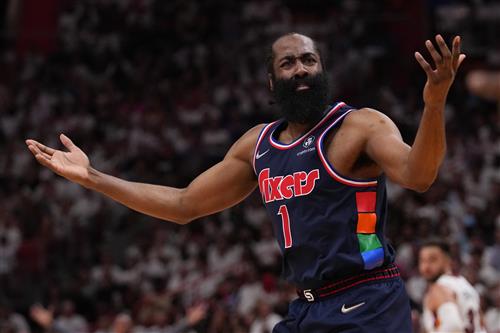 NBA free agency is less than two months away, with plenty of big names potentially hitting the market.
Unfortunately for fans of star players switching teams, it's unlikely many will actually go anywhere. Players like James Harden, Kyrie Irving, Zach LaVine, Bradley Beal, Deandre Ayton and others are already in comfortable situations, can make more money staying put and/or are restricted this summer.
While this could make for a somewhat boring free-agency period, there are other destinations out there that would make sense for some of the league's available stars, should some wish for a change of scenery.
Whether it be through an outright signing or a sign-and-trade to a team that lacks cap space, these top-10 NBA free agents should at least consider the following landing spots.
Mitchell Robinson, C: Golden State Warriors
FA Type: Unrestricted
How He'd Get to Golden State: Sign-and-trade, possibly in deal for James Wiseman
With Kevon Looney hitting free agency and James Wiseman having played just 39 total games in two years, the Warriors should be on the hunt for center help this offseason.
While they don't have the cap space to sign Robinson outright, a sign-and-trade deal featuring Wiseman would be an intriguing possibility.
As good as the 21-year-old center could be, Wiseman hasn't been reliable following knee surgery and subsequent swelling that caused him to miss the entire 2021-22 season. Robinson suited up 72 times for the Knicks this year, including 62 starts.
After four years in the league, it's clear Robinson isn't going to develop into a real offensive threat, and in Golden State, he wouldn't have to be. The Warriors would just need him to protect the rim, rebound and roll hard to the basket looking for lobs from Stephen Curry, Draymond Green and others.
He'd also be a much cheaper option than exploring a trade for a player like Rudy Gobert, while bringing a similar (although, still a far lesser) skill set.
The Warriors and Knicks could explore a sign-and-trade based around Wiseman, as New York can afford to be more patient with his development.
Collin Sexton, G: Dallas Mavericks
FA Type: Restricted
How He'd Get to Dallas: Sign-and-trade
The Cavs can match any deal Sexton receives in free agency and are a projected $23.5 million away from the luxury-tax line, so they'll almost certainly want to bring the 23-year-old combo guard back.
Dallas doesn't have the cap space to sign Sexton outright, but it could be interested in a sign-and-trade for another ball-handler this summer if Jalen Brunson leaves as an unrestricted free agent. While he's not a true point guard, Sexton could thrive in a scoring role next to Luka Doncic after averaging 24.3 points and 4.4 assists in 2020-21, his last full season before tearing his meniscus on Nov. 7, 2021.
The Mavs have a package of players who could interest Cleveland, including Tim Hardaway Jr., Maxi Kleber, Reggie Bullock and/or Josh Green. Dallas could include draft capital as well to try and entice the Cavs to agree to a sign-and-trade deal.
While Dallas should be interested in Sexton (especially if it loses Brunson), it would be surprising to see the Cavaliers willing to give him up already. It would likely take a financial dispute on a new deal for the Cavs to actually agree to trade Sexton, something the Mavericks should be paying close attention to.