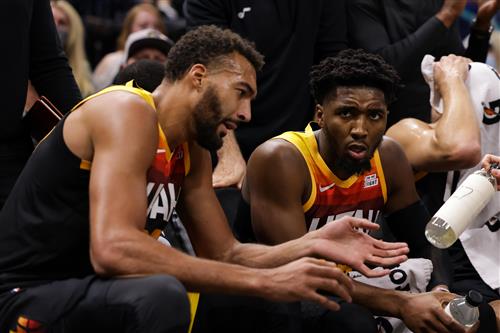 Utah Jazz big man Rudy Gobert would seemingly prefer NBA fans not to believe everything they read.
Sean O'Connell of SiriusXM reported Monday that Gobert "is at 'him or me' point with Donovan Mitchell and will demand that one of them be traded." O'Connell reported Gobert does not think the pairing can win a championship, is concerned with Mitchell's defense and knows at least one Western Conference contender would "pay handsomely" if he left Utah.
Yet the man himself didn't seem too impressed with the rumor.
While Gobert was dismissive, the idea of internal tension and a clear limit on championship potential for the Jazz is far from new.
Even after the big man's winning dunk in Game 4 of Utah's first-round series against the Dallas Mavericks, TNT's Matt Winer prompted an interview question with "there's a lot of talk about what this team can and can't be in the postseason."
Gobert was fined $25,000 because he replied "f–k the talk."
The momentum from that win was short-lived, as the Mavericks won the next two games to advance to the second round. It was another playoff failure for the Jazz, who fell behind 2-1 in the series even though Luka Doncic missed the first three games. They also blew a 2-0 lead to a Los Angeles Clippers squad that didn't have Kawhi Leonard for the whole series in the second round last year.