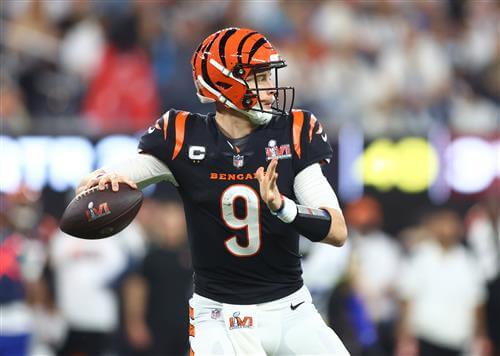 It didn't take long for the 2020 NFL draft class to have a big impact on the league. 
That class has already yielded an AFC Championship-winning quarterback in Joe Burrow, four first-team All-Pro selections and 11 Pro Bowl appearances. 
There is no doubt its members are talented. And there's also no doubt that several general managers and decision-makers would have probably chosen differently if the draft were held today.
Evaluating draft picks as they happen is nearly impossible. But with two years of seeing these players in action, it becomes a lot easier to see where they should have been slotted. 
So here's what the draft would have looked like if GMs had access to a Time Stone, DeLorean or your favorite time-traveling MacGuffin. 
For the sake of simplicity, this re-draft will use the order in which teams actually picked on draft night. Current team situation and a player's production thus far were taken into consideration. 
1. Cincinnati Bengals: Joe Burrow, QB, LSU
Original selection: Joe Burrow
Where he was actually picked: No. 1 overall
The early success of Joe Burrow and Justin Herbert is going to spark a debate about the two for the rest of their careers. Regardless, Joe Burrow was the right quarterback for the Cincinnati Bengals franchise. 
The 2021 campaign is all the proof you need. One year after tearing his ACL, Burrow was able to guide the Bengals to their first AFC championship since 1988. 
Both Burrow and Herbert are unquestionably franchise quarterbacks. The tiebreaker here is Burrow's connection to Ohio. He grew up and played high school football in Athens and chose to go to Ohio State before transferring to LSU, where he blossomed into a superstar. 
Had the Bengals taken Herbert, a California guy with West Coast roots, there would always be the question of whether he was committed to staying in Cincinnati. 
The Bengals don't have that problem with Burrow. 
2. Washington Commanders: Justin Herbert, QB, Oregon
Original selection: Chase Young, DE, Ohio State
Where he was actually picked: No. 6 overall
This re-pick has less to do with Chase Young and his future as an NFL pass-rusher and more to do with Justin Herbert's potential to be a top-five quarterback for the next decade. 
The Washington Commanders have trotted out a carousel of quarterbacks over the last two seasons that includes Alex Smith, Kyle Allen and Taylor Heinicke. 
Young won Defensive Rookie of the Year honors in his first season. However, he had just 1.5 sacks in nine games before tearing his ACL in Week 10 of the 2021 season. 
He'll likely bounce back and still become a great pass-rusher based on his rookie year. But there's no doubt the Commanders would rather have Herbert under center than what they have at quarterback now. They were forced to deal two draft picks just to get Carson Wentz. 
Meanwhile, Herbert is coming off a Pro Bowl season in which he threw for 5,014 yards with 38 touchdowns. 
3. Detroit Lions: Justin Jefferson, WR, LSU
Original selection: Jeff Okudah, CB, Ohio State
Where he was actually picked: No. 22 overall
All you have to do is look at the success of Ja'Marr Chase in his rookie season and the free-agent market for wide receivers to see that it is now a premium position. 
Teams are paying up for top pass-catchers with big dollars in free agency. The Bengals took Chase with the fifth pick in the 2021 draft, and he was instrumental in getting them to the Super Bowl. 
Justin Jefferson may have fallen all the way to No. 22 in the real draft, but a team wouldn't hesitate to take him with a top-five pick in a re-draft. 
With 3,016 receiving yards in his first two seasons, Jefferson has nearly 1,000 yards more than CeeDee Lamb, who has the second-most receiving yards of any 2020 draftee and is worthy of a first-round pick in his own right. 
Outside of Amon-Ra St. Brown, who was a surprise rookie success with 90 catches for 912 yards, there aren't a lot of exciting receivers on the Lions' roster right now. That would change with Jefferson in tow. 
4. New York Giants: Tristan Wirfs, OT, Iowa
Original selection: Andrew Thomas, OT, Georgia
Where he was actually picked: No. 13 overall
The New York Giants had the right idea when they took Andrew Thomas with the fourth overall pick. A dominant tackle would help with quarterback Daniel Jones' development, as well as help get the most out of Saquon Barkley when healthy. 
The problem is they took the wrong one. 
Andrew Thomas cleaned up his play quite a bit in 2021, but his transition to the league has been bumpy. He gave up 10 sacks in his rookie season while earning a Pro Football Focus grade of 62.4, putting him in backup territory. In Year 2, he raised that grade to 78.9 with two sacks allowed. 
Wirfs has done his work on the right side, but the transition to the pro game has been seamless. He only allowed one sack and carried an 81.8 grade from PFF as a rookie. In 2021, he earned his first All-Pro nod.
Thomas is a strong option after his second season, but Wirfs is shaping up to be a multiple-time All-Pro.  
5. Miami Dolphins: Chase Young, Edge, Ohio State
Original selection: Tua Tagovailoa, QB, Alabama
Where he was actually picked: No. 2 overall
2022 is going to be the year the Dolphins figure out whether Tua Tagovailoa is worth another contract. They've done everything they can to surround him with talent in his third season. 
So far, the results have been inconclusive. The southpaw has thrown for 4,467 yards, 27 touchdowns and 15 interceptions with a 13-8 record as the starter. 
But in this exercise and with the benefit of hindsight, it would make more sense to get a potentially elite edge-defender and wait until 2021 to draft a quarterback. In 2021, the Dolphins would have had the option of either Justin Fields or Mac Jones with the No. 6 pick they used to take receiver Jaylen Waddle. 
Young had a disappointing second season. He only had 1.5 sacks in nine games before an ACL tear ended his year prematurely. But there's reason to believe he'll get back to the promise he showed in 2020, when he was named Defensive Rookie of the Year and a Pro Bowl selection.
He could pair with Emmanuel Ogbah to create a dangerous pass-rushing duo for the Dolphins. 
6. Los Angeles Chargers: A.J. Terrell, CB, Clemson
Original selection: Justin Herbert, QB, Oregon
Where he was actually picked: No. 16 overall
The Chargers are one of the bigger losers in this exercise. It just goes to show how fortunate they were that Justin Herbert fell to them at the No. 6 pick. 
With Herbert off the board, they are faced with settling for Tua Tagovailoa or going best player available. 
In this scenario, they would still need to find a way to be competitive in an AFC West where everyone has an elite quarterback. That's not going to happen with Tagovailoa in his current form. Instead, the Chargers opt to build an elite secondary with A.J. Terrell playing across from free-agent acquisition J.C. Jackson. 
While Trevon Diggs is the flashier corner in this draft class, Terrell had a dominant 2021. He held opposing quarterbacks to a 50.0 percent completion rate and 61.0 passer rating on 86 targets in his second season. 
A secondary featuring Terrell, Jackson and Derwin James would make it tough for opposing passers to find success. 
7. Carolina Panthers: Tua Tagovailoa, QB, Alabama
Original selection: Derrick Brown, DT, Auburn
Where he was actually picked: No. 5 overall
Many of the Panthers' current woes could be solved if they had found a way to acquire a quarterback in the 2020 draft. They would not have felt the need to make the move for Sam Darnold that is costing them a second- and fourth-rounder this season. 
Instead, they are still left with a major hole at the quarterback position and no picks between No. 6 and No. 137 in 2022. 
Tagovailoa might not be a slam-dunk prospect, but he has more promise than anyone on the Panthers roster. In other words, this choice comes down to Tagovailoa and still having their second- and fourth-round picks or a prospect from the 2022 draft class like Kenny Pickett and no other draft picks on Day 1 or 2. 
That's a pretty easy choice. Tagovailoa still has time to take the next step in 2022. His 13-8 record as a starter is proof that you can at least contend for a playoff spot with him as the quarterback. 
For a team that hasn't made the playoffs since 2017, that sounds pretty good. 
8. Arizona Cardinals: Trevon Diggs, CB, Alabama
Original selection: Isaiah Simmons, LB, Clemson
Where he was actually picked: No. 51 overall
Isaiah Simmons had a much better second season compared to his rookie year, but he still isn't quite the impact playmaker the Cardinals were hoping for when they took him at No. 8 overall. 
Trevon Diggs, on the other hand, was one of the highest impact corners in the league last season.
Diggs is the definition of boom-or-bust on a week-to-week basis. After picking off three passes and defending 14 more as a rookie, he racked up a league-leading 11 interceptions and 21 passes defended in 2021. All of that ball production comes at a cost, though. 
He also gave up 907 yards and four touchdowns when targeted. 
Diggs is not a direct replacement for Simmons, but the Cardinals likely would have gone for the cornerback's turnover production and looked for a linebacker later in the draft.