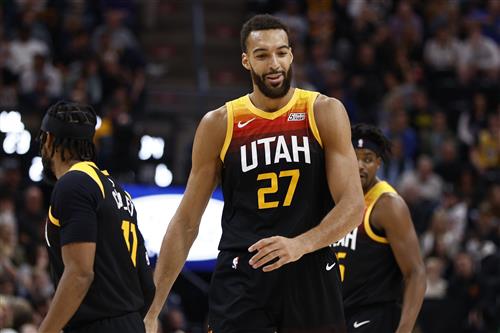 The Utah Jazz is limping toward the postseason. With just four games left in the NBA regular season, Utah has lost six of its last seven games and sits at 46-32. This recent slide and an early exit in the playoffs could lead to some big changes within the organization.
The relationship between Donovan Mitchell and Rudy Gobert has always been rocky. This could be the offseason that sees one of the two stars be traded. If the front office decides to pull the trigger, it is likely that Gobert is out.
The NBA is a guard-driven league and while Gobert is highly valued, it is hard to find guards like Mitchell. Gobert is a three-time Defensive Player of the Year who could be in line for his fourth honor this season. He has three years and $123 million left on his contract.
The market for Gobert will be hot if he is made available this offseason and the Toronto Raptors are early suitors for the big man. The Raptors have struggled defensively on the inside and this is the main attraction for Gobert.
Toronto has worked its way back into the mix in the Eastern Conference currently sitting sixth with a record of 45-33. This is not a deal that the front office would explore until the offseason but it could improve a postseason team even further in the conference.
Gobert has plenty of money left on his contract and a third team could eventually get involved in the deal. If it is a two-team deal, here is what it might look like between the Raptors and Jazz.
Toronto Raptors Receive: C Rudy Gobert
Utah Jazz Receive: F Pascal Siakam, C Precious Achiuwa
Rudy Gobert is set to make an insane amount of money over the next three years. His contract does include a $46.65 million player option for the 2025-2026 season.
It would be silly for Gobert to opt out with that money on the table so the Toronto Raptors will have to find a way to match some of it.
Pascal Siakam would have to be included for a couple of reasons.