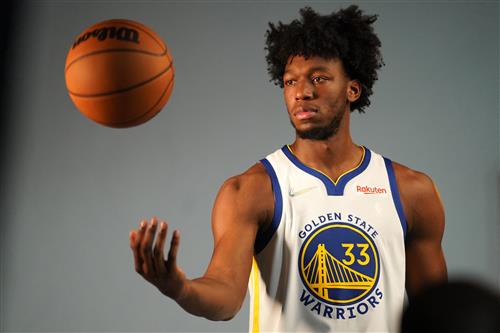 While the Golden State Warriors are currently engaged in the process of getting themselves ready for a potential title run, the team has something of a dilemma on its hands behind the scenes. Namely, deciding the best course of action with former No. 2 pick James Wiseman.
Just when it looked like the big man was finally set to return to the lineup earlier this month, he experienced swelling in the knee where his meniscus was repaired. As a result, the Warriors have effectively shut him down, at least for the time being.
It feels like a major blow for the franchise; not just in the present but for the future as well.
Some see cornerstone potential in Wiseman, and that lot seemingly includes Warriors owner Joe Lacob. However, team insider Connor Letourneau believes that the club's outrageous luxury tax situation and concerns about his knee may have Golden State agonizing over whether to pick up his fourth-year option for 2023-24 (worth $12.1 million).
If that's true, the team has some serious soul-searching to do.
At this juncture, it's unlikely that the Warriors would seriously consider trading Wiseman for anything other than a home-run return. However, in the event that GM Bob Myers and his brain trust decide they aren't confident in his knee and/or his ability to develop — and they don't want to pay him — here's one "abandon ship" deal that would net a low-key win-now piece.
Deal With Spurs Makes Former Lottery Pick the New Starting Center
Again, we're qualifying this whole scenario as one that only makes sense if the Dubs have already rendered judgment on Wiseman and want to turn him into something that helps now. In that reality, the following offseason trade with San Antonio gives them the legit seven-footer/paint presence they're lacking currently.