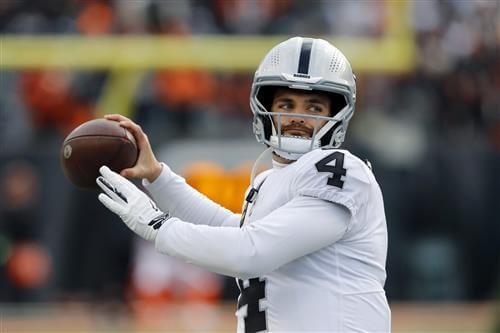 Rumors surrounding a contract extension for Derek Carr are starting to heat up. NFL Network's Ian Rapoport has reported the Las Vegas Raiders are planning to keep the quarterback going forward. While signs are pointing that Carr is sticking around for the future, anything is still possible.
It doesn't appear that the two sides have met at the negotiation table quite yet. Perhaps the Raiders won't like the idea of paying Carr $40 million a year but he won't be willing to take anything less. A lot can happen once negotiations begin. The final outcome could be that the two sides decide that a trade is best. If so, the Washington Commanders should aggressively pursue Carr. He'd be an improvement over Taylor Heinicke and has familiarity with defensive coordinator Jack Del Rio, who coached the quarterback with the Raiders from 2015 to 2017.
Alex Ballentine of Bleacher Report decided to propose a trade between the two sides. The Raiders would send Carr to Washington for their 2022 first-round pick (No. 11 overall), 2022 third-round pick and 2023 first-round pick:
The quarterbacks who could be available with the 11th pick aren't the kind you want to start Day 1. There's likely to be at least one team that talks itself into taking a signal-caller in the top 10, but it would be surprising to see any of them be a huge upgrade over Taylor Heinicke or Ryan Fitzpatrick in Year 1.