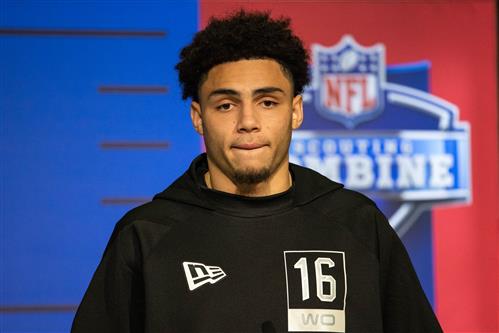 The 2022 NFL draft is right around the corner, and the Dallas Cowboys are already seeing an NFC East rival make moves.
The Philadelphia Eagles made a rare pick-only trade with the New Orleans Saints on April 4. The Eagles sent two of their three first-round picks in exchange for the Saints' 2022 first-round selection, 2023 first-round pick and their 2024 second-round pick, as well as a couple of other mid-to-late round picks.
NFL fans know Dallas owner Jerry Jones likes to make a headline or two as well. With recent reports that the Cowboys were trying to trade for New England Patriots WR DeVante Parker, the Cowboys trading up for a receiver in the draft is on the table.
CBS Sports' Pete Prisco has the Packers going receiver at No. 22, while NFL.com's Charles Davis has both teams taking receivers. For the Cowboys to have their pick of the class, they need to jump at least the Packers and Cardinals.
That's where the Pittsburgh Steelers come in. Dallas possesses the No. 24 pick, but there are teams like the Arizona Cardinals and Green Bay Packers (picking at No. 22 and 23 respectively) that are being projected to take receivers as well.
Steelers and Cowboys Could Work a Deal
The Steelers are in an interesting spot. Prisco, Davis and many other draft experts believe Pittsburgh will take a quarterback in the draft.