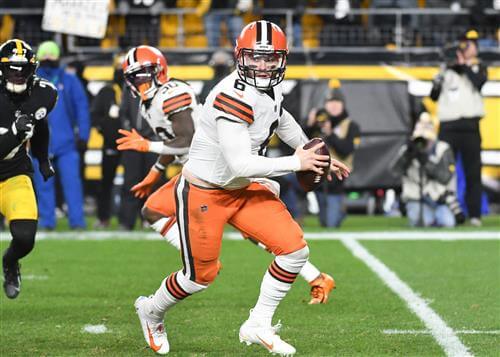 Baker Mayfield posted a cryptic message on social media Tuesday, thanking Cleveland Browns fans for their support over the first four years of his NFL career.
While nothing official has been announced, the statement—coupled with Cleveland brass meeting with Deshaun Watson and reports that the team is ready to move on regardless—is spelling the end of Mayfield's tenure with the Browns.
It's unclear where he'll end up, but several teams should be interested.
Mayfield still has one year left on his rookie deal, which carries a salary of $18.9 million, making the 2018 No. 1 pick a reasonable value for a QB-needy franchise.
He is coming off a poor 2021—completing just 60.5 percent of his passes for a career-low 3,010 yards and 17 touchdowns against 13 interceptions—but he was playing with a hurt shoulder and likely could still net the Browns a Day 2 draft pick.  
Here's a few of the more realistic landing spots for the 26-year-old and what the Browns might get for the signal-caller.
Seattle Seahawks
The Seattle Seahawks find themselves looking for a starting quarterback for the first time in a decade after they agreed to deal Russell Wilson to the Denver Broncos last week without a viable succession plan in place.
Jacob Eason, along with free-agent Geno Smith, backed up Wilson last year but ideally will continue riding the pine after the Seahawks acquire a proven veteran.
Mayfield and Seattle should have mutual interest. Pro Football Network's Aaron Wilson tweeted that his league sources predict the Seahawks will be an attractive option for the quarterback.
Both Mayfield and the Seahawks are coming off disappointing seasons.