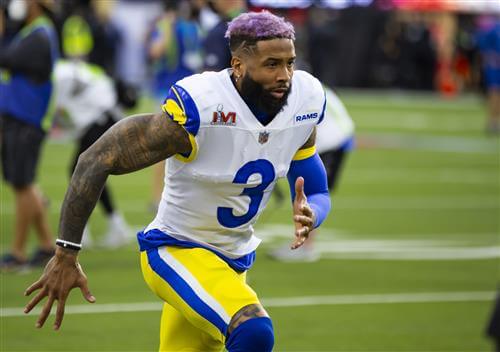 The pool of available NFL free agents is rapidly dwindling.
Many of the players who remain unsigned are flawed in some way, whether that is because they are coming off major injuries, saw a recent drop in production or are in thee twilight of their careers.
Despite those flaws, many of these veteran talents still represent significant upgrades for a good number of rosters. While teams have fewer holes at this point in the offseason thanks to the draft and earlier free-agent signings, there are still plenty of voids to fill.
With that in mind, here's a look at eight players who somehow haven't found a new home yet and should be in line for a new deal soon. Players are listed in alphabetical order.
WR Odell Beckham Jr.
Odell Beckham Jr. is still looking for a new team following his resurgence with the Los Angeles Rams last season. The veteran looked rejuvenated after signing with the Super Bowl champions, helping them win a ring while emerging as a big part of the team's offense.
Unfortunately, OBJ suffered a torn ACL early in Super Bowl LVI and isn't likely to be available at the start of the 2022 campaign.
It's understandable why NFL teams would be leery of signing an aging wideout coming off a significant injury. Caution should certainly be exercised, too, considering Beckham's tumultuous tenure with the Cleveland Browns.
Despite this, there are few options left for an organization to bolster its receiving corps, and Beckham is undoubtedly one of the best wideouts still available.
The 29-year-old did some great work with the Rams prior to the injury, racking up 305 yards and five scores in eight regular-season games. In the playoffs, he notched 21 catches for 288 yards and two touchdowns, including the first of Super Bowl LVI.
It's clear the Rams and Beckham are a great fit, and the two sides would each benefit from staying together.
Head coach Sean McVay recently said he "really wants" OBJ back this year. Beckham tweeted that the feeling is mutual but made it clear he wants to be paid.
Los Angeles has just a shade under five million in cap space available—the fourth-fewest amount in the league—which could make it tricky to give Beckham the big-money deal he desires.
OT Duane Brown
Duane Brown has adequately manned one of the game's most important positions for 14 years.
Despite his status as one of the league's most consistent left tackles, the longtime veteran is still looking for a new home this offseason.
Brown started all 17 games for the Seattle Seahawks last season and has missed just four starts since the start of the 2018 campaign. The 36-year-old made the 2021 Pro Bowl, proving he can still be a reliable asset.
While Brown did regress slightly last season—he earned his lowest PFF grade since his rookie year—he still scored a highly respectable 71.5.
The five-time Pro Bowler should be on the mind of any general manager who isn't sold on his team's blindside protection capabilities.  That includes Omar Khan, who has the unenviable task of keeping the Pittsburgh Steelers competitive in the post-Ben Roethlisberger era.
Brown represents a real upgrade over Dan Moore Jr., a fifth-round pick in 2021 who earned a concerning 57.8 PFF grade as a rookie starter at left tackle.
Replacing Moore with Brown would give the young lineman a chance to learn from one of the league's best while offering much more reliable protection to whichever QB ends up winning the Steelers' starting job.