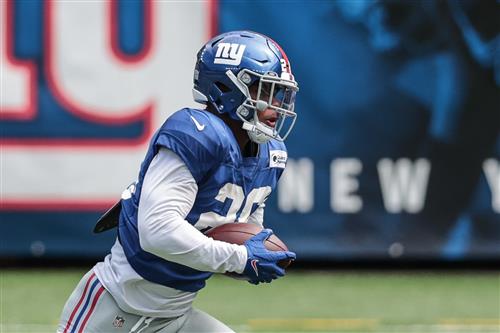 We're getting deep into the NFL offseason, with some mandatory minicamps already complete and the rest set to kick off in the next few days. Roster development now becomes a far bigger focus than roster building, though we're still going to see a few deals done in the coming months.
The trade market will remain open until midseason, and we already know a couple of players likely to be on the move.
The Cleveland Browns will presumably try to move quarterback Baker Mayfield at some point. They discussed dealing him to the Carolina Panthers during the draft and may get more aggressive in negotiations as the regular season approaches. The San Francisco 49ers, meanwhile, are expected to move quarterback Jimmy Garoppolo—who recently had shoulder surgery—before training camp.
"Garoppolo's shoulder is slated to get the all-clear in late June or early July, at which point the Niners will again seek a trade partner," Nick Wagoner of ESPN wrote.
Who else should be on the trade block in 2022? That's what we're here to examine. We'll dive into eight players for whom a trade would make sense—based on factors like roster depth, contract status, potential returns and any recent relevant buzz—along with logical landing spots for each.
Players are listed in alphabetical order.
Saquon Barkley, RB, New York Giants
This season, the New York Giants will be looking to discover if Daniel Jones can be their quarterback of the future. While this is the most important challenge facing the Giants, they'll also be looking to determine the future of running back Saquon Barkley.
The second overall pick in the 2018 draft is entering the fifth and final year of his rookie contract. He was superb as a rookie Pro Bowler but has had his career derailed by injuries. He barely topped 1,000 rushing yards in his second season, suffered a torn ACL in 2020 and averaged a mere 3.7 yards per carry in 2021.
However, Barkley appears healthier now, and New York is happy to have him on the roster.
"He's been good. He's been able to do everything we've asked him to do," head coach Brian Daboll told reporters. "…The routes we're asking him to run, his quickness, his ability to get in and out of breaks, his long speed. It's all looked good."
While a healthy Barkley could help get more out of Jones, he could also bring much-needed value in a trade. His guaranteed $7.2 million salary isn't excessive, and the Giants might be able to pry a high Day 2 pick from a contender if they're willing to absorb some of it.
The alternative for New York is letting Barkley play out his contract and then deciding whether to invest heavily in an up-and-down running back with a lengthy injury history. That's a tough position for a franchise that isn't ready to compete now.
The Tampa Bay Buccaneers are ready to win now and could use another dual-threat running back after losing Ronald Jones II in free agency. Tampa has $10.5 million in cap space available and could afford to add Barkley as another outlet option for Tom Brady.
Barkley's contract situation may be easier to take for the Bucs than for other teams. Having Barkley on a one-year deal isn't as much of an issue for a team that may enter a full-blown rebuild if Brady retires (for real, this time) next offseason.
Best Fit: Tampa Bay Buccaneers
Jessie Bates III, S, Cincinnati Bengals
Unlike the Giants, the Cincinnati Bengals should be in buyer's mode. They're coming off a Super Bowl loss and poised to again make noise in the AFC playoff race.
However, they should seriously consider moving standout safety Jessie Bates III. The 25-year-old was given the franchise tag this offseason but has no interest in playing under the tag in 2022.
"The safety has 'no intentions' of playing the 2022 season under the franchise tag, a person close to the situation told USA TODAY Sports+," Tyler Dragon of USA TODAY Sports+ wrote. "The person spoke on condition of anonymity because of the sensitivity of the matter."
If Bates relents and agrees to play on the tag, he's unlikely to be back in 2023, Kelsey Conway of the Cincinnati Enquirer reported.
Cincinnati used a first-round pick on versatile Michigan defensive back Daxton Hill, who could play either safety or corner for the Bengals. If Bates isn't in Cincinnati's long-term plans, it could look to move him and play Hill at safety.
The Philadelphia Eagles would be a logical trade partner for Cincinnati. They're outside of the conference, could use a replacement for departed free agent Rodney McLeod and are entering a win-now season.
Following the draft, Eagles general manager Howie Roseman said that Philadelphia would "continue to look at" the safety position, according to Dave Zangaro of NBC Sports Philadelphia.
The challenge for the Eagles would be in offering Bates an extension that works with their current cap situation—perhaps a backloaded deal full of guarantees. Philadelphia has just $4 million in cap space available. If the Eagles can make the financials work, Bates would be an ideal trade target.
Best Fit: Philadelphia Eagles