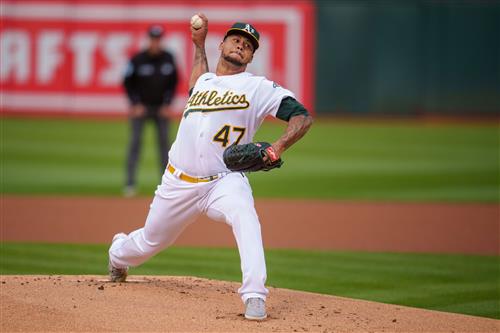 As the MLB games today begin, the New York Yankees sit atop the MLB standings and are widely viewed as the best team in baseball with July approaching. While it might not seem like there are areas to improve for a club dominating the sport, New York will be busy on the trade market.
MLB trade rumors are already swirling about the pitching available this summer. While there isn't a Max Scherzer-like hurler available, teems in need of quality arms for their starting rotation will have plenty of options to choose from.
As of now, Oakland Athletics starter Frankie Montas and Cincinnati Reds hurler Luis Castillo are the most sought-after arms on the market. Not only are they both young with the upside to accomplish even more, but each player is under contract next season. All of those factors might be a reason why New York is a team to monitor.
Peter Gammons of The Athletic writes that Yankees' general manager Brian Cashman is going to make a run at Castillo and Montas this summer. He also noted that MLB teams know the Yankees are willing to give up quality prospects in order to get a piece they really like.
There will be plenty of competition for Montas and Castillo, including from the New York Mets. However, New York is certainly capable of putting the right offer together. Let's take a quick look at potential deals for each starter.
Projecting a Frankie Montas trade to the New York Yankees
Montas should appeal to New York for a few reasons. First, he easily outearns his current contract. The 29-year-old makes just $5.025 million this season and is arbitration-eligible this winter. Even with a significant raise, the righty is much cheaper than what he would receive if signed in free agency.
More importantly, the stuff is extremely appealing. He ranks 14th in Swinging Strike rate (13%) and 20th in strikeout rate (19.4%) this year. While some might see a 3.21 ERA as a reflection of Montas making frequent starts in a pitcher-friendly park, he also doesn't have the benefit of a great defensive team.