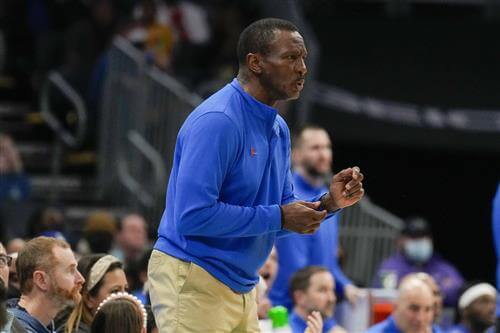 The last month of the NBA regular season can be a race for playoff seeding, or for some coaches, a last-ditch effort to keep their jobs.
This year is no different, especially in some of the league's biggest markets where the pressure is typically cranked up the highest.
Whether it's failing to meet expectations or suffering another early playoff exit, the next two months could decide the fate of the following six coaches.
Seats That Could Get Hot (Honorable Mentions)
Doc Rivers, Philadelphia 76ers
2021-22 Record: 40-24, third in the East
The Sixers are still in their honeymoon period with James Harden and just two-and-a-half games behind the Miami Heat for the No. 1 overall seed. Joel Embiid is playing like an MVP, and Tyrese Maxey should be a candidate for Most Improved Player.
With that being said, what happens if Philly loses in the first round? Landing a top seed in the East could still mean a first-round matchup with a Brooklyn Nets team featuring Kevin Durant, Kyrie Irving (for all games if the vaccine mandate is lifted by mid-April) and Ben Simmons. Playing a tough Toronto Raptors team is no easy series, either.
Rivers' teams have melted down in the playoffs before both in Philly and with the Los Angeles Clippers. He almost certainly won't lose his job this offseason, but a shocking first-round exit—perhaps one that began with a big lead—could have him on the hot seat going into next year, especially with Embiid and Harden built to win now.
Dwane Casey, Detroit Pistons
2021-22 Record: 18-48, 14th in the East
Having one of the worst records in the NBA can naturally put you on the hot seat, fair or not. After being named Coach of the Year with the Toronto Raptors and subsequently fired in 2018, Casey probably doesn't feel too safe no matter how his teams finish.
The Pistons weren't supposed to win this season, but this could mark three straight years of 20 wins or fewer. Casey was originally brought on in 2018 to lead a playoff contender that featured Blake Griffin, Andre Drummond and Reggie Jackson. Now, not a single player from the 2018-19 roster is still on this Pistons squad.
We could also see a mutual parting here a la Mike Budenholzer and the Atlanta Hawks in 2018, with Casey getting out of his contract if a job opens up on a team more ready to win.