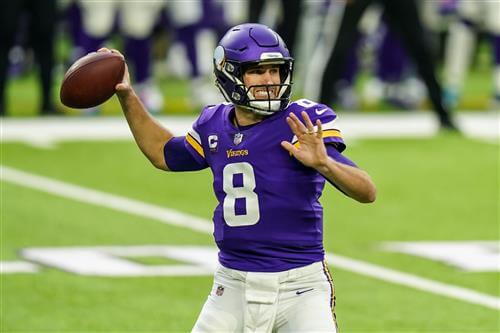 The Super Bowl is the golden opportunity for teams looking to sell hope for the next season.
And with many teams believing they're a quarterback away from making their own appearance in the big game, this week may be an opportune time for the Minnesota Vikings to dangle Kirk Cousins in front of potential trade partners.
SKOR North's Judd Zulgad recently speculated a likely chance that new general manager Kwesi Adofo-Mensah may be taking calls for Cousins despite several reports touting Cousins' is secure in Minnesota.
Zulgad: Vikings' Quietly Shopped' Cousins Last Offseason
Earlier this week, ESPN's Jeremy Fowler reported that soon-to-be head coach Jeremy Fowler has a "firm belief" in Cousins, signaling the veteran quarterback's future with the Vikings is secure.
"Soon-to-be Vikings HC Kevin O'Connell conveyed a firm belief in Kirk Cousins during the interview process, I'm told. He's high on him. The front office must decide on Cousins' future due to his $45M cap hit, but many coaches interviewing for job liked Cousins, O'Connell included," Fowler tweeted on February 7.
Fowler's report echoed a similar sentiment that Adam Schefter reported during the Pro Bowl, saying that O'Connell's relationship with Cousins (from one season together in Washington) was one of the reasons the Rams offensive coordinator wanted the job.