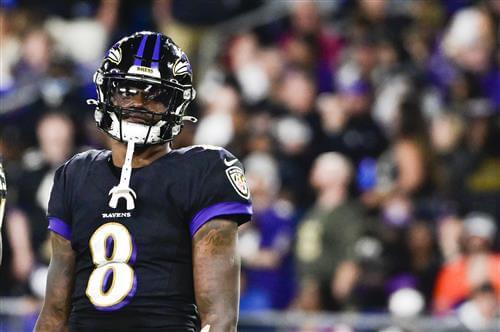 With the calendar now flipped to July and the start of training camp less than a month away, Lamar Jackson remains without a contract beyond the 2022 season. The situation isn't as dire or as urgent as it might seem – both for Jackson and the Baltimore Ravens. But the longer Jackson goes without a new deal, the greater the potential risks become for both sides.
Jackson is entering his fifth year in the NFL. According to Over the Cap's database, he earned just $9.47 million in total during his first four seasons under his rookie deal. But even at his fifth-year, team-option rate of $23.016 million for 2022, Jackson is still an enormous bargain for the Ravens: 15 other quarterbacks currently earn more on an annual basis.
Performance
Jackson's overall body of work is awfully impressive. His expected points added per play in his three full seasons as a starter was the fourth-highest in the league behind Patrick Mahomes, Aaron Rodgers, and Ryan Tannehill. He was the league MVP in 2019 when he led the NFL with 36 touchdown passes in addition to rushing for 1,206 yards – a record for quarterbacks.
Jackson is 37-12 as a starter in the regular season. Last year, he even had the Ravens sitting at 8-5 even though they far and away led the league in adjusted games lost to injury. And then an ankle injury sidelined him for the remainder of the season.
It's true that Jackson's performance in the last two seasons didn't reach quite the same heights as his scintillating 2019 campaign. But some of his issues as a passer stem from offensive coordinator Greg Roman's run-heavy scheme, which contracts the field and encourages defenses to stack the box. A video breakdown by Hall of Fame quarterback Kurt Warner lays out how many of Roman's route combinations are less than ideal at creating space for pass-catchers – a critique wideout Hollywood Brown hinted at after the Ravens honored his request for a trade by sending him to the Cardinals on draft night. Roman, for his part, adjusted the scheme for the upcoming season.
There's no denying Jackson is due for a payday that's going be ginormous. The questions are how and when.
What Jackson wants
One complicating factor is that Jackson does not have an agent; he's instead bargaining for himself with the assistance of his mother. As a result, it's impossible to know what his bargaining priorities might be, other than that he seems to be in no hurry to get a deal done. There have been no leaks. In fact, back in the spring, when some idle speculation started making the rounds that Jackson might be angling to leave Baltimore – a classic tactic of using the press in an attempt to gain leverage – Jackson was quick to shoot it down:
Similarly, while Jackson skipped the Ravens' organized team activities, he hastily made it clear he only did so because OTAs are voluntary anyway. When it came time to report for mandatory minicamp two weeks ago, Jackson was present and accounted for.
At the league meetings in late March, team owner Steve Bisciotti was at a loss to understand Jackson's negotiating strategy, which he characterized as "unique as hell because everybody expects you to say, 'I've got to get mine now.'" Bisciotti also went so far as to speculate what Jackson's motives might be in slow-walking the contract talks, adding that he's not sure the two sides will even reach an agreement by the time the season starts.
"The kid is so obsessed with winning a Super Bowl, that I think deep down, he doesn't think he's worthy," Bisciotti said. "I think he wants that to say, 'Now, I deserve to be on top.'"