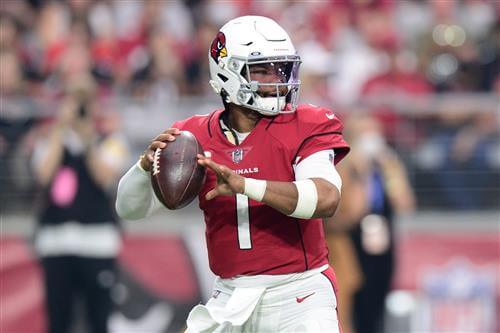 We've known about Deshaun Watson wanting a trade from the Houston Texans for over a year now. Meanwhile, Kyler Murray's possible frustrations have only recently come to light. That's if there's anything going on at all.
Still, it won't prevent us or anyone else from speculating all season about Kyler Murray trade scenarios this offseason. Here's the latest — a Deshaun Watson trade sending the Pro Bowl QB to Arizona for Kyler Murray.
Deshaun Watson could reunite with DeAndre Hopkins
Would a trade to the Arizona Cardinals appeal to Deshaun Watson? If his legal situation clears up, having a full no-trade clause gives Watson control over his next playing destination. Honestly, at this point, Watson likely would be happy to just be back on a playing field starting under center for any NFL team in 2022 after a full season off.
Yet, going to Arizona has to have plenty of intrigue for the three-time Pro Bowl quarterback. Of course, the weather is beautiful, but in addition to those benefits, the Cardinals have a deeply talented roster on both sides of the ball. He'd instantly have the best offensive line he's ever played behind and instantly lands on a team that reached the playoffs last season.
Oh yeah, and he'd reunite with DeAndre Hopkins, one of the best wide receivers in the game. With Watson throwing to Hopkins, he enjoyed three seasons tallying 1,000-plus receiving yards while reaching the Pro Bowl all three years.
With the Texans hoping to move on from Watson as soon as possible this offseason, it's safe to say, for Watson, landing in Arizona would be a perfect fit. But how does the trade look for Kyler Murray?
Kyler Murray can provide spark to Houston Texans fanbase
So a trade to the Cardinals might work out best for Deshaun Watson, but how would Kyler Murray respond to a trade to the Houston Texans?