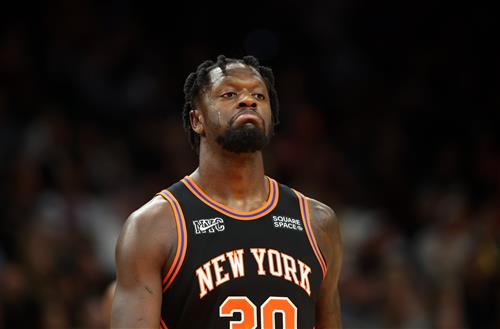 It's been quite a fall from grace for Julius Randle this season, and his relationship with the New York Knicks fanbase has been stretched to breaking point.
Randle was a revelation for the Knicks last season, quickly becoming the teams' offensive focal point, both as a scorer and facilitator. But this time around, fresh off signing a four-year $117 million extension, the former Los Angeles Lakers forward has struggled to replicate his performance levels.
Now, after a season of struggles, it would seem that Randle is preparing for a swift exit from New York, and has already begun to disassociate himself from the team on social media. According to multiple eagle-eyed fans, Randle has unfollowed all of his teammates and removed the majority of pictures with him in a Knicks uniform from his social media pages.
With such cryptic social media activity, it's fair to say that fans are starting to suspect Randle is eyeing a route out of New York, but with his contract extension due to kick in, and a budding partnership forming with Obi Toppin, that may not be the best career decision.
Randle Was All-Star Last Season
We've all seen what a healthy and motivated Randle looks like, and the impact he can have on a team's chances of success. For most of last season, the six-foot-eight forward was unguardable and often found himself being labeled as the best player on the floor.