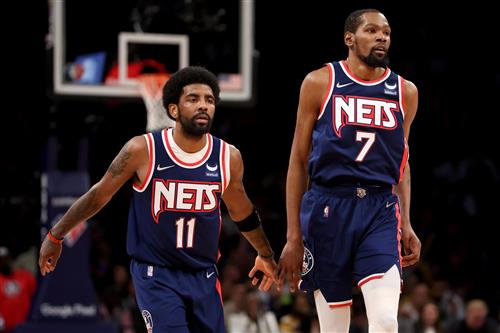 The 2022 NBA draft is over. The free-for-all of the first few days of free agency is behind us. Las Vegas Summer League is wrapped up, but there are still some fireworks seemingly loaded up and ready to launch.
Despite a trade request, Kevin Durant is still a member of the Brooklyn Nets. The potential swap of Kyrie Irving for Russell Westbrook (and other stuff) hasn't happened for the Los Angeles Lakers. The Utah Jazz are still perusing the Donovan Mitchell trade market.
It's possible that nothing happens with any of those players before the 2022-23 season starts, but it feels like at least one or two dominoes will fall. For today's exercise, let's imagine what it would look like if they all fell at once.
Just under a year ago, Russ was involved in a five-team trade that sent him to L.A. Other role players were involved, but he was undoubtedly the biggest name in that deal.
In 2022, there's a potential five-teamer that could make each organization happy and include him, KD, Kyrie and Mitchell (as well as plenty of role players).
The Trade
You can haggle with me (or each other) about the specifics, how many draft picks are involved, where those picks should go and what kind of protections they'd carry, but this general framework (unwieldy as it may seem at first glance) accomplishes some goals for everyone involved.
A more thorough breakdown of what this would mean for each team follows, but let's just get a zoomed-out view of the deal to start with.
Los Angeles Lakers Receive: Kyrie Irving, Patrick Beverley* and Dario Saric
Brooklyn Nets Receive: Mikal Bridges, Talen Horton-Tucker, Cameron Payne, a 2025 first-round pick from Phoenix, a 2027 first-round pick from Phoenix, a 2027 first-round pick from Los Angeles, a 2029 first-round pick from Phoenix and a 2029 first-round pick from New York
Utah Jazz Receive: Russell Westbrook, Quentin Grimes, Cam Reddish, Evan Fournier, Jae Crowder, Landry Shamet, a 2023 first-round pick from New York, a 2023 first-round pick from Phoenix, a 2025 first-round pick from New York, a 2027 first-round pick from New York and a 2029 first-round pick from Los Angeles
Phoenix Suns Receive: Kevin Durant and Bojan Bogdanovic
New York Knicks Receive: Donovan Mitchell and Cam Thomas
*Because Patrick Beverley has already been traded this season, he can't be aggregated with other players in a trade for two months. The restriction ends after August 30, 2022. So, if we're going to see something like this monster deal, we'll have to be patient.
The Kyrie-LeBron Reunion Tour
Lakers Receive: Kyrie Irving, Patrick Beverley and Dario Saric
Lakers Lose: Russell Westbrook, Talen Horton-Tucker, a 2027 first-round pick and a 2029 first-round pick
At the moment, the Lakers appear unwilling to surrender multiple first-round picks to unload Westbrook, but the calculus should change if the return also includes another role player in Patrick Beverley and a flier on Dario Saric (who missed all of the 2021-22 season while recovering from a torn ACL).
Kyrie's fit in L.A. probably doesn't require much analysis. He and LeBron won a title together in 2016. He can shoot, which is the biggest differentiator between him and Westbrook. And he's almost four years younger than Westbrook, too. Even with whatever off-court concerns may come with Kyrie, replacing Russ with him feels like a no-brainer.
The other two additions make this idea especially interesting.
Beverley is a nominal point guard, but he's shown an ability and willingness to defend wings. He doesn't ask for much usage on the other end, either. He's purely a three-and-D guard, something that has proved effective alongside LeBron over the years. And his off-ball experience means he can play alongside Kyrie (even if they don't start together).
Saric's injury is a concern, but having a small-ball 5 with a 35.7 career three-point percentage and flashes of playmaking from his past could make L.A.'s bench less predictable.