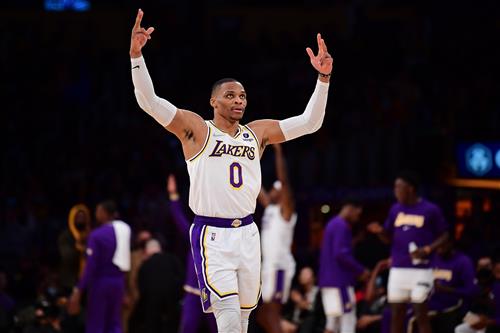 Russell Westbrook had hinted at the dysfunction at various points earlier in the season, but there was no holding back this time.
There was no uncertainty in his phrasing, no need to read into his comments in order to extrapolate any hidden meaning this time. No, as Westbrook sat in front of assembled media for the final time of the 2021-22 season for his exit interview, he left little doubt about, well… much of anything (beyond him picking up his $47 million player option, which, honestly, we all knew would happen too).
Among the talking points in a Q&A that laid bare the sad state of affairs between him and his hometown Lakers, Russ laid blame in almost every direction but his own. Among a host of causes for his season-long struggles, he cited his rocky day-one relationship with Frank Vogel, "having to prove myself and my capabilities and what I've been able to do for this game," and, most shockingly, implied LeBron James and Anthony Davis were not being truthful when they said they wanted to "Let Russ be Russ," a common refrain of theirs from early on in the season.
Yikes.
The general consensus after Westbrook wrapped up was that he not only lacked accountability for his own role in his (and his team's) underwhelming performance that season, but that there was really no way to spin any this positively. Russ, it seemed, had gone scorched earth on the Lakers. The only question was, what would their response be?
Fast forward several months and the Lakers' response has been two-fold. First, they've unabashedly tried to trade him. Whether it's been their very loud pursuit of Kyrie Irving to the recent reports of rekindled discussions with the Pacers for a deal centered around Buddy Hield and Myles Turner, Westbrook has been presented to opposing teams as the salary ballast to find better fitting players who can help the Lakers resuscitate their championship hopes.
Beyond those reports that highlight specific players, the Athletic's Shams Charania reports that there have been more general discussions with the Jazz and the Knicks around those teams absorbing Westbrook's salary in exchange for undisclosed "draft capital." Presumably, the Lakers would then recoup players who would theoretically help them more on the court than Russ can this upcoming season, from either of those teams or a third one.