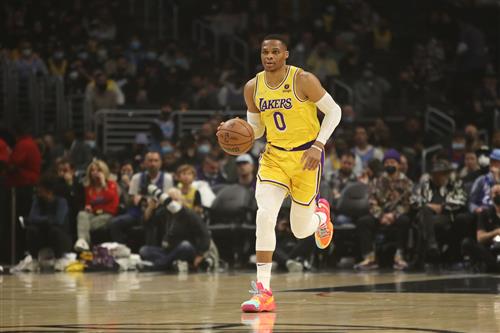 Russell Westbrook has become the go-to scapegoat for the Los Angeles Lakers' disappointing 28-36 season.
On Monday, he told reporters how out-of-control the vitriol has become:
"Like, I don't even want to bring my kids to the game because I don't want them to hear people calling their dad nicknames and other names for no reason because he's playing the game that he loves. And it's gotten so bad where my family don't even want to go to home games, to any game … and it's just super unfortunate, man. And it's super upsetting to me."
Westbrook isn't the only one to blame for the Lakers' struggles. Injuries have limited LeBron James and Anthony Davis to 46 and 37 games, respectively. Kendrick Nunn, whom the Lakers signed with $5.0 million of their taxpayer mid-level exception, has been out for the entire season. A number of their veteran-minimum signings haven't panned out as expected, either.
But the most significant share of the blame pie goes to Lakers decision-makers who traded their championship-level depth for Westbrook, a questionable fit with a $47.1 million player option for next season. With so much invested in him, James and Davis, they rounded out their roster with minimum players and didn't value Alex Caruso enough to justify the expense of keeping him.
The Lakers went from a poor-shooting two-star team with a defensive identity to an ill-fitting, worse-shooting, three-star team with no defensive identity. Although Davis' eventual return could help propel them to a surprisingly deep playoff run, their season appears likely to end in disappointment.
At that point, the Lakers would need to decide how to solve their Westbrook conundrum this offseason.