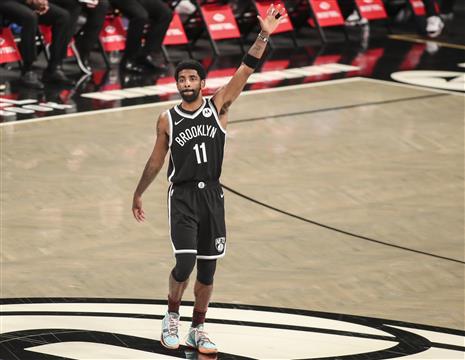 Kyrie Irving, without hyperbole, might genuinely be the most complicated trade candidate in NBA history. This is not simply a matter of risk vs. reward. We're talking about one of the more unpredictable players the NBA has ever seen. He's pledged to stay with every team he's ever departed. He pledged not to retire last season as well… how confident would an acquiring team be in him keeping his word? Trading for Irving would require complete organizational buy-in. You'd have to do it with the understanding that he's going to miss games due to injury, and he's going to miss games for reasons other than injury as well. He's going to say bizarre things. He's going to make your coach's life difficult.
And he's going to make the biggest shots of your season. That's what makes finding a reasonable trade so difficult. Irving is the rare player who might actually be good enough to justify this sort of dysfunction, and the Nets know it. Trading him would make them worse on the court. It might even take them out of championship contention. There is simply no way, given the risk he poses, that any team acquiring him would give the Nets fair value back in a deal. Coming in, it would be a potential lose-lose situation for both parties involved.
In that sense, the Nets probably should just keep Irving. He has a $36 million player option and fairly limited leverage to force a trade with it. The only teams with enough cap space to realistically pursue him in free agency are so far out of the championship picture that he'd never want to play for them in the first place. The Indiana Pacers will not be signing Kyrie Irving this offseason. He's probably going to stay with the Nets for that reason. He can't force his way to his preferred destination and they can't trade him for their preferred package because his value has tanked so low that such a package probably doesn't exist.
But with The Athletic's Shams Charania reporting that the two sides are at an impasse in contract negotiations, it's worth exploring who might actually be able to pull off a deal for Irving. A deal probably needs to meet all or most of the following conditions to be feasible considering the risks it would pose to all parties involved:
The destination would have to prove acceptable to Irving. He simply isn't worth the headache if he doesn't want to be somewhere.
The returning package has to at least keep the Nets remotely competitive. This isn't a rebuilding trade, and the Nets need to make sure they don't alienate Kevin Durant.
The Nets cannot realistically accept any 2022 free agents back in a sign-and-trade because it would trigger a hard cap that they are almost certain to exceed. In that vein, we'll assume Irving opts-in and extends with his new team rather than engineers a sign-and-trade of his own to avoid this complication with acquiring teams.
With those parameters in mind, here are the five teams that make the most sense for Irving.
1. Los Angeles Lakers
The Nets are not going to be interested in Russell Westbrook. Let's get that out of the way now. Durant has (inadvertently) hinted through social media that he didn't want to keep playing with Westbrook after leaving Oklahoma City. Even if they were interested in a reunion, Westbrook makes no sense next to Ben Simmons. So we'll bury the idea of a direct Westbrook-for-Irving swap right now. If the Lakers are getting Kyrie, it's going to happen in one of two other ways.
The likelier path would be a three-team deal in which some third party accepts Westbrook's expiring contract along with whatever meager value the Lakers can muster (their unprotected first-round picks in 2027 and 2029, Austin Reaves, maybe Talen Horton-Tucker) and sends their own assets to Brooklyn. Many of the usual Westbrook subjects apply here. Maybe Indiana could send the Nets Malcolm Brogdon and Buddy Hield. Maybe Charlotte would give up some combination of Gordon Hayward, Terry Rozier, Kelly Oubre and P.J. Washington? Heck, perhaps there's a bigger deal here involving John Wall and the Rockets. If the Lakers are willing to give up multiple picks, they might be able to squeeze the Rockets for role players like Eric Gordon (reportedly on the block for a first-rounder) and Jae'Sean Tate. Among these deals, Charlotte is probably the most logical. Hayward is the closest thing to a star Brooklyn could muster in this sort of deal, and the Hornets have the depth to potentially send the him to the Nets. Of course, among the offers the Nets are likely to get, this construction ranks near the bottom.
The Lakers could immediately jump to the top of the list by offering Anthony Davis. Just don't expect them to do so. Both Irving and Davis are injury-prone, but Davis has more team control, is more reliable off of the court, and is simply a better player. Maybe the Nets could sweeten the pot here with role players like Seth Curry and Joe Harris, but they have no way of replacing the defense the Lakers would be losing in Davis without giving up Ben Simmons as well. Would they do that? Probably not. You could potentially get funky in a multi-team construction, but for now, any hope the Lakers have in actually landing Irving relies on his interest in going to Los Angeles. They just aren't going to offer the best package.