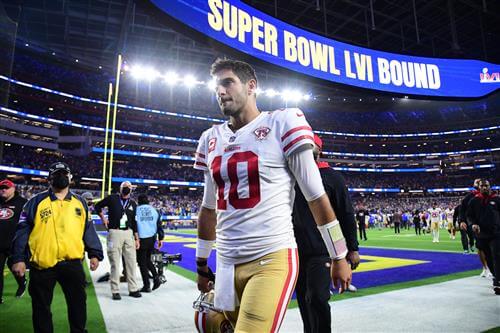 Baker Mayfield and the Browns finally parted ways on Wednesday, with Cleveland trading the quarterback to the Panthers. That means almost every QB domino of the frenetic 2022 offseason has fallen. Almost. Despite more than a year of on-again, off-again trade speculation, and months of publicly anticipating a change of scenery, Jimmy Garoppolo remains on the 49ers. With Trey Lance quietly absorbing all QB1 reps as the anointed future face of the franchise, what happens next in San Francisco?
Here are the most logical destinations for Garoppolo, with training camp just around the corner:
5. Patriots
There were conflicting reports about New England's interest in a Garoppolo reunion before spending a first-round pick on Mac Jones in 2021. And the Patriots certainly aren't paying Jimmy G a hefty sum to back up Jones this time around. But if Garoppolo is outright cut, it might behoove Bill Belichick, who's entering a big offensive transition without longtime coordinator Josh McDaniels, to call on his old prospect as a mentor for Jones. The upside for Garoppolo doesn't extend much beyond returning to the familiar confines of New England, where he backed up Tom Brady from 2014-17, but from the Pats' perspective, he probably offers more insurance than Brian Hoyer, who can be retained on the practice squad, and rookie Bailey Zappe.
4. Seahawks
The 49ers will not trade Garoppolo to a rival, even if Lance is their guy. But if San Francisco eventually cuts the veteran out of "respect" (i.e., his behind-the-scenes demands), Seattle might be waiting. If you're the Seahawks, and you just witnessed Garoppolo guide two teams to the NFC title game in three years, why not? There'd be little financial downside if they signed Garoppolo on the cheap and later had to go to Drew Lock or Geno Smith, inevitably resetting at QB in 2023, which is likely anyway. Garoppolo's experience as the figurehead of a run-first offense could be attractive to Pete Carroll, and the QB would get the bonus of playing San Francisco two times, with a chance to prove the Niners should've kept him.