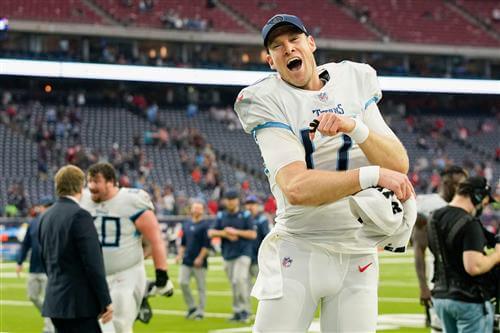 The 2022 NFL offseason is here. Teams can now use the franchise tag to secure big names ahead of free agency. And the rest of the market will open with the legal tampering window on March 14, with the new league year officially kicking off two days later. That means it's also trade season. No deals can become official until March 16, but as recent offseasons have proven, clubs can strike principle agreements well beforehand. And there are no shortage of all-stars who could be on the move.
With that in mind, here are eight star players who should be shopped, if not dealt, before the 2022 campaign:
Seahawks QB Russell Wilson
The biggest problem for most teams in the NFL: they don't have a truly elite QB. The Seahawks are not one of those teams. But unlike the others in their privileged company — the Chiefs, the Packers, the Bills, etc. — they are not on the verge of a title run. In fact, aside from Wilson's two favorite receivers, they're quite barren. Fresh off a 7-10 last-place finish, they've got plenty of 2022 cap space to restock, but the fixes won't be easy. Two of their best starters — aging left tackle Duane Brown and safety Quandre Diggs — are due to hit free agency, their O-line in general is still shoddy, and their defense — once a fearsome staple of Pete Carroll contenders — has been among the worst in the league for three years running.
In other words, it's not hard to see why now is the right time to auction the best asset on the block. Retaining Russ would certainly not be a bad outcome; an elite QB always gives you a chance. But this is about resetting while the opportunity is ripe. It's about taking the whole picture into account. Even coming off a down year that included surgery, is Wilson's value going to be higher? He's 33, with a sterling Pro Bowl resume, and has pretty clearly been open to a move for at least a year. It's the trade haul that could generate the next Super Bowl team that should motivate the Seahawks. If they can get multiple first-rounders, another pick or two, and perhaps even a young QB with Wilson similarities (think the Eagles' Jalen Hurts), they'd be primed to rebuild.
Financially speaking, a trade wouldn't hurt but help Seattle, by the way. Due $37 million in 2022 and $40M in 2023, Wilson would save the Seahawks an instant $11M in a relocation, giving them not only a likely abundance of draft-pick compensation, but more than $45M in total cap space to fill out the lineup starting this year.
Titans QB Ryan Tannehill
If the Seahawks are one of the few teams with an unmistakably elite QB, the Titans are one of maybe a dozen with QBs good enough to earn big money and maybe even guide a playoff run but rarely lift teammates to championship heights. That makes their predicament especially challenging, when mostly everyone else is in it. Where can you turn at QB, after all, if all that surrounds you are other, slightly better or worse mid-tier starters? That's only partially relevant to the issue at hand: Tannehill, on his own, is not worth the $38.6M he's due in 2022 — an outrageous figure that makes him the NFL's fifth highest-paid QB.