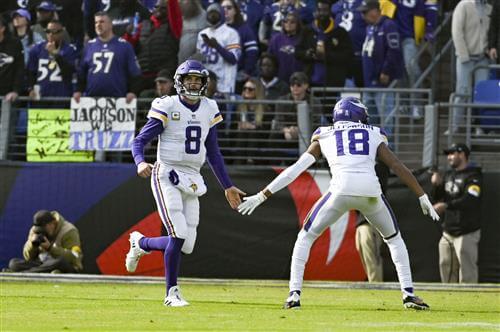 In today's pass-happy NFL, you don't have to look especially far to find a potent pitch-and-catch duo. Last February's Super Bowl featured two of the league's best in Joe Burrow and Ja'Marr Chase of the Cincinnati Bengals and Matthew Stafford and Cooper Kupp of the Los Angeles Rams.
But there's another duo. One that isn't always mentioned among the best in the league. One that pairs experience and athleticism—a quarterback with a decade in the NFL under his belt and a wide receiver who is off to a roaring start over the first two seasons of his professional career.
That quarterback and wide receiver pairing is Kirk Cousins and Justin Jefferson of the Minnesota Vikings. And with a new offensive-minded head coach in Kevin O'Connell set to take the reins in the Twin Cities, it's a combo that could be set to surprise in 2022.
Now, at this point in this column, I can practically hear readers rolling their eyes. It's seemingly the natural reaction every time Cousins' name comes up.
There isn't a quarterback in the NFL with an annual salary of $35 million or more who catches more flak from fans and the media than the 33-year-old Cousins.
On some level, that's justified. If the ultimate measure of success for quarterbacks is team success (and fairly or not, to many it is), then Cousins hasn't had a lot. In four years as the starter for the Vikings, Cousins is a so-so 33-29-1. Only one of those four campaigns ended in a trip to the postseason.
Cousins' critics will point to his 2021 numbers as the quarterback in a nutshell—good, but not great. His 4,221 passing yards and 33 touchdowns each ranked ninth in the league. But it's also worth noting that Cousins posted just seven interceptions with the fourth-highest passer rating (103.1) in the NFL—higher than Stafford and Tom Brady of the Tampa Bay Buccaneers.
In his introductory press conference, O'Connell told reporters that one of his biggest priorities as head coach is to help bring out the best in his quarterback.
"I know who he is as a player, and I know what he's capable of, and part of our job as coaches is maximizing a player's ability to go out every single Sunday and have success. I feel that's going to be an advantage for us as we build our system offensively, make sure we really focus on the things Kirk does well, which I do think are a lot of aspects of playing the position. Help him on a daily basis connect with his team, lead us, be a completely quiet-minded quarterback that can go play, because he's talented enough to go do that, putting him in the best possible situations to have success."