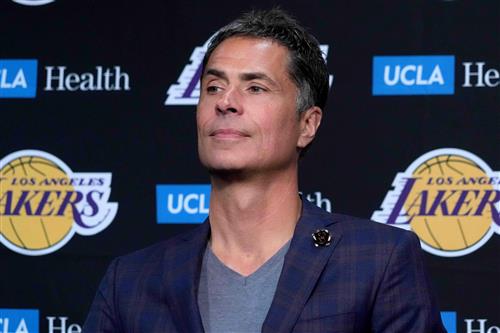 The Los Angeles Lakers fired head coach Frank Vogel on Monday, which should come as no surprise to anyone who followed the team all year. After entering the 2021-22 NBA season as one of the front-runners for the title, they wound up finishing 33-49 and missing the play-in tournament entirely.
The Lakers are now set to embark on what's expected to be a "lengthy and expansive" search for Vogel's successor, according to ESPN's Adrian Wojnarowski.
Despite their struggles this season, the Lakers should still be one of the most desirable coaching jobs in the NBA. They have LeBron James, who just finished second leaguewide in scoring in his 19th season. They also have another top-25 player in Anthony Davis, although he's struggled to stay healthy over the past two years. 
The Lakers still have plenty of unanswered questions about their supporting cast, particularly with regard to Russell Westbrook's future. But the duo of James and Davis should be a great starting point for whoever takes over as the next head coach.
Who should the Lakers hire to replace Vogel? They have plenty of options from which to choose, including candidates on Vogel's current staff, coaches on other playoff teams and some who are already available.
Nick Nurse
On Monday, Shams Charania of The Athletic and Stadium reported that Toronto Raptors head coach Nick Nurse is among the Lakers' "top targets" to replace Vogel. However, just because the Lakers have him on their wishlist does not mean that the feeling is mutual.
Nurse, who won a championship in his first season with the Raptors, would be a home run hire for the Lakers. He's one of the most innovative coaches in the NBA. No one has done more with less than him. The Raptors entered this season with low expectations, and Nurse guided them to the fifth seed in the Eastern Conference.
The Raptors had the league's fifth-best defensive rating after the All-Star break, which has been a cornerstone in Nurse's coaching legacy. Defense was a major issue for the Lakers this season. Having a coach with new ideas and a new way to deploy LeBron and Davis could get the Lakers defense back to where it was when they won a championship in 2019-20. 
However, it's hard to believe that he would want to leave Toronto and that the Raptors would be willing to let him go. If they were, it would cost the Lakers a lot to get him. Raptors team president Masai Ujiri is not one to give away a top-five coach on the cheap.
Quin Snyder
Utah Jazz head coach Quin Snyder is currently preparing for his team's first-round series against the Dallas Mavericks. However, Marc Stein of Substack reported last month that Snyder had been "frequently mentioned in league circles as a hiring target."
Including this season, the Jazz have made the playoffs for six straight years with Snyder at the helm. He's had the team consistently in the top 10 leaguewide in defensive rating, offensive rating and net rating. The Jazz finished with the league's best offensive rating (116.2) this season, and they were fourth in points per possession coming out of timeouts, according to Synergy Sports Technology. 
Snyder would bring great energy to a Lakers team that at times looked listless this season. He spent a year as an assistant on Mike Brown's staff with the Lakers in the early 2010s, so he already has some history with the franchise.