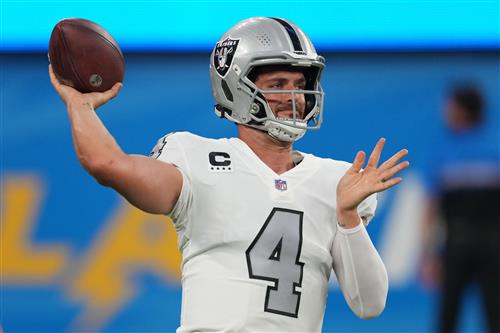 By all indications, new Las Vegas Raiders head coach Josh McDaniels likes Derek Carr. The quarterback is due for a contract extension this offseason and there's a strong chance he gets one. However, there are a lot of teams in the NFL right now that desperately need a quarterback.
While the Raiders would be one of those teams if they trade Carr, avoiding a contract that will take up around $40 million a year in salary cap space and gaining a haul of draft picks might be appealing to the new staff. With so many teams needing a quarterback, Las Vegas could take advantage of a seller's market. The Pittsburgh Steelers might be the most desperate team of all. Ben Roethlisberger is headed for retirement and they don't have a clear replacement in-house.
The Steelers have a roster that's ready to win now. They have good weapons on offense and an elite defense. All they need is a quarterback. In a recent mock draft at Pro Football Focus, the outlet predicted that Pittsburgh will send the Raiders a 2022 first-round pick, a 2023 first-round pick and a 2022 third-round pick for Carr:
Las Vegas trading veteran quarterback Derek Carr became an increasingly unlikely scenario when the team hired Josh McDaniels to be its next head coach this offseason, but the Steelers could ultimately make an offer the Raiders' brass can't refuse. Pittsburgh's roster is in a better position to win with Carr than Las Vegas' squad, as evidenced by their playoff berth with the version of Ben Roethlisberger (PFF's 33rd-ranked quarterback) we all witnessed this past season.