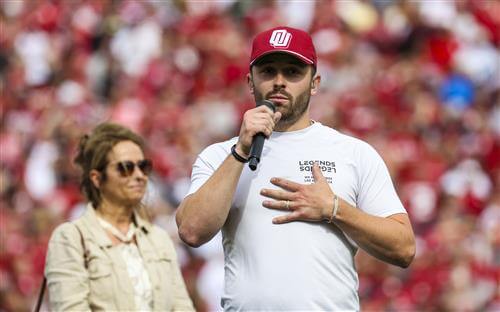 There was some belief Baker Mayfield could be traded shortly before the 2022 NFL Draft began, and if not then, it would happen at some point possibly on Day 2 once teams knew whether they missed out on their draft targets. Unfortunately for the No. 1 pick of the 2018 NFL Draft, he still remains a member of the Cleveland Browns.
But that isn't expected to last long. After everything that's happened in Cleveland between Mayfield and the team, there's no way he's still on the roster once training camp opens in late July. Having both Deshaun Watson and Mayfield in the same locker room could get awkward.
Houston Texans take on Mayfield to push Davis Mills
One team that's been fairly quiet on the QB front all along is the Houston Texans. After making five picks in the first 75 selections, it was clear they didn't have any intention of grabbing a quarterback in the 2022 NFL Draft. Maybe it means they're all in on Davis Mills after nabbing him with their first pick in the 2021 NFL Draft at No. 67, or maybe they've been working behind the scenes, trying to trade for Mayfield or even Jimmy Garoppolo?
Baker Mayfield contract: $18.8 million
It makes sense for the Texans not to want to add yet another young developmental prospect while they continue to work with Mills, but adding a veteran with upside may be an entirely different story. With over $20 million in cap space, they could absorb the full amount of Mayfield's salary and in doing so, would likely only cost a late-round draft pick by doing the Browns a big favor, they might even be able to get a pick just for doing so.
Related: Houston Texans expected to have interest in Baker Mayfield, Jimmy Garoppolo once draft concludes
Detroit Lions bite the bullet with Mayfield
The Detroit Lions want players with grit, where toughness isn't a question. For Mayfield, this could be the perfect fit. The only thing standing in his way, is another former No. 1 overall pick, in Jared Goff. There's no chance for him to surpass Goff as QB1 by the start of the year, but if he struggles in any way, having a ready-made backup with a massive chip on his shoulder in Mayfield isn't a bad backup plan.
It's understandable that they didn't want to take a young quarterback this season, creating some awkwardness, possibly noting that Goff isn't their franchise solution, yet adding Mayfield this late in the process could also create some unneeded tension for a team that could be on the cusp of restoring their roar. Still seems like a strange fit.