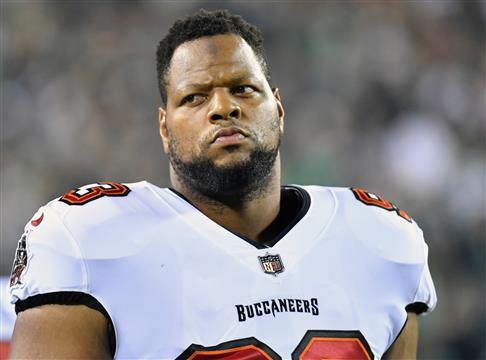 As we hit June, the once long list of remaining NFL free agents continues to shrink. We just saw edge rusher Jadeveon Clowney sign with Cleveland, not long after cornerback James Bradberry joined the Eagles and edge rusher Melvin Ingram III decided to join the Dolphins. But teams are still looking for difference-makers, from potential impact starters to veterans who can provide depth chart competition, and there are plenty of big-name talents still available.
So who are the best players still on the free-agent market? And where do they fit best? We ranked the 10 best players still unsigned and picked the optimal landing spot for each one, considering needs, player skill set and scheme, among other factors. Some of these players will join new rosters this month, while others might end up savvy mid-training camp moves for teams filling injury voids or looking for more depth.
Which franchise could use Odell Beckham Jr.'s services, and who most needs Ndamukong Suh on their defensive front? Let's take a closer look at the 10 best players still available and where they could land.
1. Ndamukong Suh, DT
Best fit: New Orleans Saints
I originally considered matching the veteran defensive tackle back with the Buccaneers, but with Tampa Bay signing Akiem Hicks, we should expect Suh to land with another contender during camp. Suh had six sacks in 2021 and put some good tape out there in the postseason.
I really like the idea of Suh playing in Dennis Allen's defense. Even in a rotational role, Suh can still create disruption, command two in protection and get home to the quarterback in schemed fronts. He'd be effective in New Orleans with interior stunts and loops that create A-gap pressure and eliminate the quarterback's ability to climb the pocket. And you need that when you see Tom Brady twice a season.
2. Odell Beckham Jr., WR
Best fit: Los Angeles Rams
When Beckham is cleared to return from his left knee injury suffered in the Super Bowl, his best fit is re-signing in Los Angeles. Just look at his production and role in coach Sean McVay's offense last season. During the Rams' postseason run to Super Bowl LVI, Beckham caught 21 of 26 targets for 288 yards and two scores.
We can look at isolation routes outside the numbers here, as well as slot fades, where Beckham can get up on the toes of defensive backs. He displays a detailed route tree and the separation speed to get loose. Beckham also fits with McVay's schemed concepts, where quarterback Matthew Stafford can deliver the ball with timing on crossers and in-breakers. The Rams added Allen Robinson II in free agency to join Cooper Kupp and Van Jefferson, but bringing Beckham back into the mix gives Stafford another proven target in a highly defined pass game.