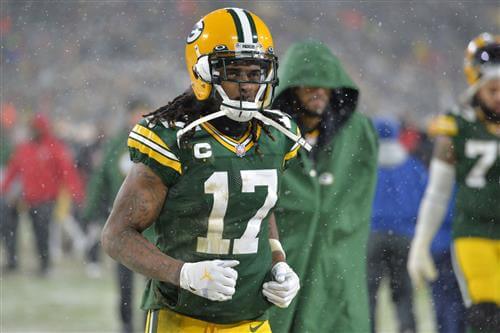 Wide receiver is one of the most exciting markets going into 2022 NFL free agency. There are plenty of big names set to become available. However, several of them come with asterisks. Chris Godwin, Michael Gallup, Juju Smith-Schuster, and D.J. Chark suffered season-ending injuries. Allen Robinson regressed in a big way last season as well. The only proven commodity that won't have any trouble garnering tons of interest is Davante Adams.
Most agree the Green Bay Packers All-Pro is probably the best receiver in the NFL right now. His 2,927 yards and 29 touchdowns over the past two years alone offer more than enough proof of that. The 30-year old is at the top of his game. One would think the Chicago Bears, a team coming off a 6-11 season, have little hope of enticing him, given their iffy QB situation.
Except nothing is ever predictable in the NFL.
A source reached out to SM recently with an unexpected bit of information. There is a belief the Bears will see if they can make a play for Adams next month when the offseason begins. The driving force behind this movement is new offensive coordinator Luke Getsy. He worked with Adams for years in Green Bay, and the two have built a strong relationship. Enough to where the coach made the receiver his confidant.
"GETSY AND DAVANTE ARE EXTREMELY CLOSE. DAVANTE WAS THE VERY FIRST PERSON LUKE TOLD HE IS TAKING THE OC JOB IN CHICAGO BEFORE EVEN MATT (LAFLEUR), BRIAN (GUTEKUNST), RUSS (BALL), OR MARK (MURPHY). THAT SHOULD TELL YOU THEIR RELATIONSHIP."
Such a statement is easy to believe.