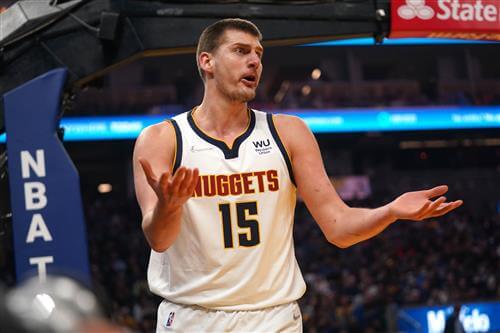 ICYMI, the internet is none too pleased by Nikola Jokic's playoff performance so far, as his Nuggets have flailed to a 0-3 series deficit to the Warriors. Many prominent tweet-senders are calling for a referendum. Shall we engage? Yes, sorry, but yes.
To be clear, our staff collectively voted Jokic for MVP. Three postseason games do not change the reality of his regular-season production. But still, Jokic is presumed to be The Most Valuable NBA Basketball Player, one of the most prestigious awards a human athlete can receive. Plenty of evidence says he's absolutely worthy. Still…there's a "but" coming from fans and analysts across the league. 
So we checked in with six of our voters to see if anyone's having second thoughts.
1. Nikola Jokic won our popular MVP vote, but it was close. If there was ever any doubt in your mind, what exactly was that doubt? And is that doubt manifesting in this series vs. the Warriors?
Eric Pincus: The fundamental issue with the MVP award is its very definition. Is the Most Valuable Player supposed to represent the best player in the NBA? Or is it the player who is the most important to his team? The doubt is in the lack of specificity in the criteria.
Take Nikola Jokic off the Denver Nuggets and that's a lottery team (specifically with Jamal Murray and Michael Porter Jr. out with injury). How did the Memphis Grizzlies fare without Ja Morant? Quite well. Morant is one of the best players in the NBA, but he's not carrying his squad like Jokic is in Denver.
If anything, the playoff series against the Golden State Warriors confirms that Jokic is the MVP, but ONLY if you're using the second criterion. Otherwise no, Jokic is not the best player in the NBA–brilliant as he might be.
Greg Swartz: The only doubt surrounding Jokic's MVP case was the worthiness of Joel Embiid and Giannis Antetokounmpo as well. There were plenty of deserving candidates (with Luka Doncic also sneaking in at the end), so I felt it was important to factor in Denver's rash of injuries and the fact that Jokic still made the Nuggets look like an elite NBA team when he was on the floor without much help. 
It's not like Jokic is having a bad series vs. the Warriors (29.3 points, 13.0 rebounds, 5.0 assists, 2.3 steals and 1.0 blocks), but Golden State is the hottest and healthiest team in basketball right now. His performance with Denver down 0-3 hasn't made me rethink my vote.
Andy Bailey: There was no doubt. And frankly, what's happening against the Warriors should probably validate anyone who voted for Jokic. It's never been more clear that he's playing with a supporting cast that isn't playoff-caliber. That's not really his teammates' fault either. None of them were signed to play the roles they're currently pigeonholed in. Jamal Murray and Michael Porter Jr., both out with injuries, are solid second and third options. Will Barton and Aaron Gordon are better suited to being fourth and fifth starters. And that's become painfully obvious against the firepower of the Warriors.
Sherrod Blakely: Jokic is a statistical dream come true: a big man who can bang in the paint, knock down threes and still manage to get his teammates involved in the role of playmaker. 
But I'm not convinced Jokic makes his teammates that much better, which should be a given when you are the NBA's best player. I know the Nuggets have had a slew of injuries. That can't be ignored. But his available teammates have not elevated their play significantly this season with Jokic. He still seems to struggle at times determining when he needs to take over and when he needs to try to get others involved.