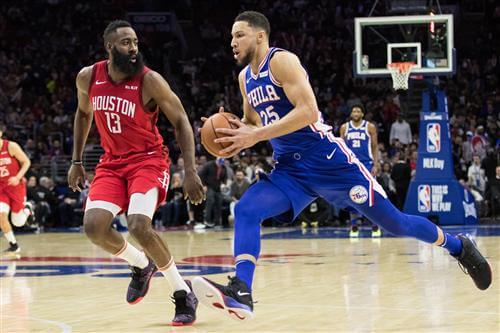 The Philadelphia 76ers and president of basketball operations Daryl Morey had been plotting to wait for the offseason to chase James Harden as a free agent and save Ben Simmons for a potential deal, but they may not have to wait that long after all.
With the NBA trade deadline just days away on Feb. 10, the 76ers are expected to pursue Harden in the coming days and the Nets are believed to be open to discussing a deal, sources with knowledge of the situation tell The Athletic. There's expectation that both the 76ers and Nets will engage in dialogue on a deal around Simmons for Harden, multiple sources say, with Philadelphia holding a chest of role players in Seth Curry, Tyrese Maxey and Matisse Thybulle that could sweeten a potential package. Still, there's no urgency for Nets officials, who have had the steadfast belief that the current core, as is, has the means necessary for a championship. However, it's believed that an opening exists should an offer elevate the team and make the roster more well-rounded as the franchise pursues a championship.
Harden will miss Friday's game against the Jazz due to tightness in his left hamstring.
Along with the potential of improving the roster depth, the Nets appear in need of change in what is a critical year in Kevin Durant's prime, with a player option looming for Kyrie Irving in the offseason and with the organization's championship expectations. When the Nets acquired Harden in a blockbuster trade in January 2021, the Big 3 he formed with Durant and Irving promised to be indestructible, arguably the most lethal offensive combination ever assembled. In the 16 games all three have played together, Brooklyn is 13-3. Their availability together has been a major concern, and perhaps could be a tremendous what-if factor in the grand scheme.