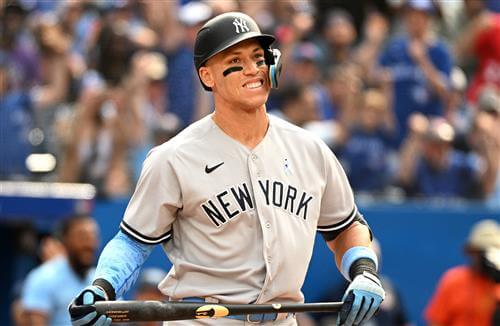 The long-standing refrain about baseball free agents is that it takes just one aggressive owner to change everything. Arte Moreno swooped in to sign Albert Pujols for the Angels. The Mariners, needing a franchise reset in the moment, stunned other clubs by landing Robinson Cano for a 10-year, $240 million contract. The Mets' Steve Cohen, hell-bent on winning a World Series, landed Max Scherzer last winter for a record-setting $43 million salary.
Assuming Aaron Judge reaches free agency — there are no ongoing contract talks between he and the Yankees, and the two sides are scheduled for an arbitration hearing Friday after failing to come to terms on his 2022 salary — he may inspire that kind of frenzied response from one or more owners and land a contract way beyond the $213.5 million offer the slugger rejected in the spring.
Judge is having the kind of monster season that could check just about every box a billionaire owner might have. Yes, his production is difference-making; he's the early front-runner to win the AL Most Valuable Player Award. Yes, he is a strong defender, with the sort of athleticism that may help him remain effective deep into a long-term contract. Yes, he has a big brand, as literally the biggest player in the history of Major League Baseball — someone who has worked and thrived in the league's biggest market. Yes, he's perceived as a really nice guy, a good teammate; he's very likely to gracefully handle the responsibility of being the face of any franchise. He'd probably slam dunk any meeting with any interested owner.
And yes, he has remained relatively injury-free, at least throughout 2021 and through the first third of 2022. The last time he was on a non-COVID injured list was in September 2020.
With all that in mind, here's an assessment of which teams might be willing to alter the salary landscape with a whopper offer to Judge.
San Francisco Giants
Farhan Zaidi's tenure as head of baseball operations for San Francisco has been highlighted by his payroll management. As Buster Posey and the other core stars of the championship seasons have moved on, the Giants have gradually reduced their payroll and long-term obligations, so much so that the franchise has only one player under contract for 2024: pitcher Anthony DeSclafani, who is owed $12 million for that year. The Giants have the wherewithal, in financial power and flexibility, to outbid all other teams for Judge or any other player.
Judge went to high school less than 100 miles from the Giants' Oracle Park, and maybe this will be a lure for him. It's also possible that the high taxes in his home state could be a factor in his negotiations. Just as Barry Bonds once inspired a mountain of ticket sales in San Francisco, the Giants' leadership is undoubtedly well aware that Judge possesses the sort of star power to fill seats for a generation.
Chicago Cubs
Judge is perfect for this team in so many ways — for the lineup, for the defense, for the marketing. He would provide the middle-of-the-order power that the Cubs desperately need as they rebuild, the heavyweight masher amid a lot of complementary offensive pieces. The Cubs are looking for a strong defensive center fielder, and Judge could be that in the first years of the contract.