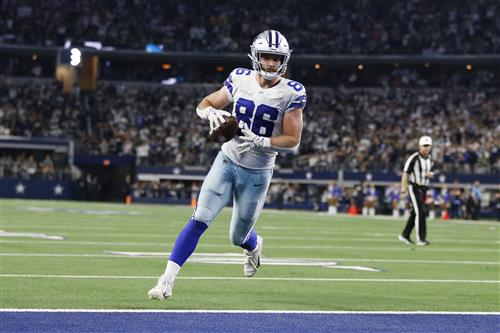 Rob Gronkowski has retired — again — and while that never really rules out another return, the Buccaneers now will likely bring in another veteran tight end to add some depth.
The Bucs have a reliable veteran in Cameron Brate, who has 33 career touchdowns, but the rest of their tight ends have, collectively, one career catch (Codey McElroy in 2019). Tampa Bay drafted two tight ends (Washington's Cade Otton in the fourth round and Minnesota's Ko Kieft in the sixth) but could use a proven player who can quickly earn Tom Brady's trust, especially with the departure of his all-time favorite touchdown target.
You won't easily replace Gronkowski, and some of the best available options are older than he is at 33. Tampa Bay has $9.99 million in 2022 cap space, a small portion of which will cover its remaining draft picks, but the team can add a decent replacement without having to do any additional cap maneuvering. Here are five names to watch in the next month before the Bucs convene for training camp:
Kyle Rudolph
The longtime Vikings tight end, 32, might be the most logical match for the Bucs. From 2015 to 2019, he totaled 30 touchdown catches for Minnesota, but he has had just one in each of the last two seasons, playing for the Giants last year and finishing with 26 catches for 257 yards. At 6-6, 265 pounds, he has Gronkowski size and can block as well as catch, and that well-roundedness is probably the most important asset in a potential replacement.
Rudolph had been linked to the Packers in free agency but did not sign. Pro Football Focus rated him as the No. 35 tight end last year, but that's still higher than Brate (52nd). He signed a two-year, $12 million contract with New York last year but was released in March and would be available now for less than that.
Jared Cook
The Bucs would be the sixth team in eight seasons for Cook, 35, who has been a much better tight end in his 30s than he was in his 20s. He made the Pro Bowl in 2018 and 2019 with the Raiders and Saints, and he has 26 touchdown catches over the last four years. He has had at least 500 yards in each of the last five seasons, including a solid 564 on 48 catches with four touchdowns for the Chargers last year.