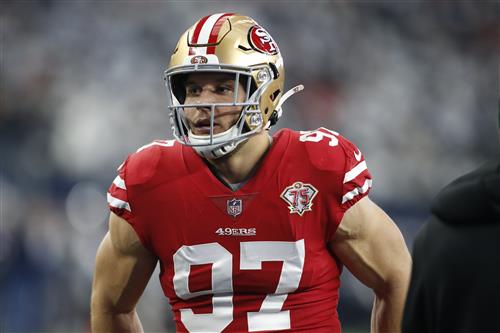 We saw an absolutely huge number of lucrative contracts signed around the NFL leading up to the start of the preseason.
Five of the eight highest-paid players in the NFL on a per-year basis signed new contracts this past offseason. That included Green Bay Packers quarterback Aaron Rodgers inking a record three-year, $150.8 million extension with the team following a plethora of trade rumors.
All said, 21 players inked deals worth at least $20 million annually since NFL free agency opened back in March. That culminated in Deebo Samuel's eye-opening deal with the San Francisco 49ers ahead of the Pro Football Hall of Fame Game this week.
Who is the next NFL player in line for a mega deal? Will it come in the form of Baltimore Ravens quarterback Lamar Jackson? Perhaps, the 49ers double down by giving EDGE rusher Nick Bosa what would be a record contract. Below, we check on those who are set for big-money deals and where they stand heading into the 2022 NFL season.
Indianapolis Colts star Quenton Nelson deserves to get paid
Since Indianapolis made Nelson a top-six pick in the 2018 NFL Draft, this former Notre Dame standout has proven himself to be one of the best offensive linemen in the NFL. He earned All-Pro honors in each of his first three seasons and is a four-time Pro Bowl performer.
Just how dominant has the 26-year-old Nelson been during his short career? According to Pro Football Focus, he's allowed all of four sacks in 2,365 pass-blocking snaps. Despite this, Indianapolis has failed to sign Nelson to an extension with the guard set to hit free agency in March of 2023.
Presumably, something will get done here ahead of Week 1. Given his excellence, Nelson will surpass the $16.5 million fellow guard Brandon Scherff is earning on his new deal with the Jacksonville Jaguars. In fact, we wouldn't be surprised if he got paid top-end right tackle money. That would include upwards of $20 million annually.
Derwin James not happy with contract, could force Chargers' hands
Also set to enter the final year of his rookie contract, James will earn $9.05 million this coming season. That's far below market value for a safety who is coming off a Pro Bowl appearance while finishing third in the NFL Comeback Player of the Year race. Simply put, James was brilliant for the Chargers in 2021.