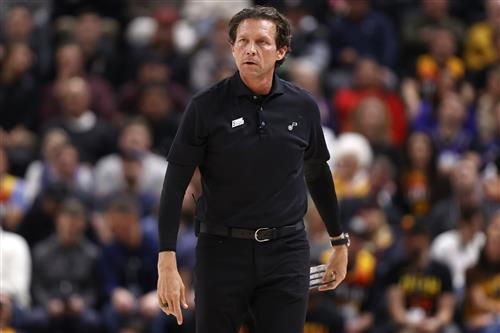 The Los Angeles Lakers will likely be looking for a new head coach to replace Frank Vogel this summer.
Los Angeles sits at a disastrous 31-47 on the season and are on the verge of being eliminated from postseason contention.
The backdrop here is continued drama between Los Angeles' star players and the front office as well as another injury to big man Anthony Davis.
With LeBron still acting as somewhat of a power broker, it's almost a foregone conclusion that Vogel will be getting his walking papers here soon.
It's under this guise that we look at five top candidates to replace Frank Vogel as the Los Angeles Lakers' next head coach.
Los Angeles Lakers promote David Fizdale
Back in November of 2017, LeBron James criticized the Memphis Grizzlies' decision to fire head coach David Fizdale early in the season. James ended up using the term "fall guy" as a way to describe the move. Fast forward four years, and the respected coach is a top assistant under Frank Vogel in Southern California.
Obviously, King James has some sway when it comes to the Lakers' decision-making process. That became clear when Fizdale replaced Jason Kidd as Los Angeles' top assistant when the latter left to become the Dallas' Mavericks head coach. As for Fizdale, he's posted a 71-134 record as a head coach in stints with the Grizzlies and New York Knicks. Will that be enough to turn the Lakers' brass off?
Los Angeles Lakers hire Kenny Atkinson
Considered one of the better developmental coaches in the NBA, it's an open question whether Atkinson would be a great hire for a veteran-laden squad like the Lakers. What we do know is that the current Golden State Warriors assistant is widely respected around Association circles. He also had some success in turning a then-dormant Brooklyn Nets squad into a playoff team before surprisingly getting ousted following the 2019-20 season.
With a focus on defense and developing, an argument could be made that Atkinson makes sense in Los Angeles. He could bring in a top-end assistant to help hold down the fort as the Lakers toe the line between short-term contention and long-term relevance.