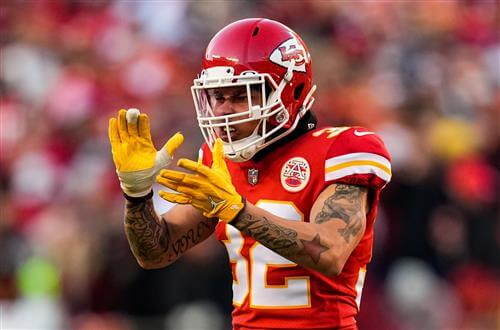 Tyrann Mathieu remains on the NFL free-agent market, hitting said market as one of the best defensive backs available. While he's getting up there in age, plenty of teams will want the Honey Badger on their defense in 2022.
A three-time to Bowl selection and member of the NFL 2010s All-Decade Team, Mathieu was the heart of the Kansas City Chiefs defense. When the versatile safety couldn't take the field, fans witnessed one of the worst overall defenses in the league. However, he made a significant impact when healthy.
Turning 30 on May 13, the 5-foot-9 safety isn't quite as good as he used to be. Even a slight decline won't stop teams from opening up the checkbook to add a Swiss Army knife to their defense who can also be a team leader.
Here are the best free-agent destinations for Tyrann Mathieu.
Baltimore Ravens
The Baltimore Ravens are desperate for a reliable safety. We also know this is a scheme that likes moving players around the field, putting them in different spots to trick the offense. According to Pro Football Focus, Mathieu played 49 snaps on the edge, 438 in the box, 206 as a slot corner and 280 at free safety this past season.
Tyrann Mathieu stats (2021): 60 solo tackles, 6 pass deflections, 3 interceptions, 3 fumble recoveries, 88.1 passer rating allowed
It's precisely the kind of utility weapon defensive coordinator Mike Macdonald likely wants. He can trust Mathieu in coverage, use him as a blitzer and just keep an opposing quarterback looking to see where the savvy defender is lined up.
Mathieu would also likely enjoy playing in the Ravens' secondary, joining a talented group of players who he knows will line up in the right spots and handle their responsibilities.
Las Vegas Raiders land Tyrann Mathieu
Vegas has been extremely active all offseason, adding superstars such as Davante Adams and Chandler Jones to the mix. The Raiders have also improved in the secondary by adding cornerbacks Rock Ya-Sin and Anthony Averett.