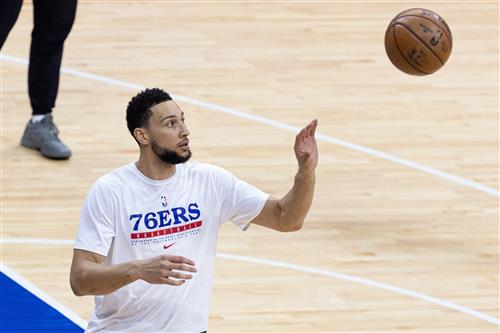 The NBA trade deadline is two days away, and the biggest trade chip of them all, a 25-year-old, 6'11" unicorn of a point guard, remains very available. While multiple league executives polled by Bleacher Report predict Philadelphia won't find a partner before the trade deadline for Ben Simmons, The Athletic's Shams Charania reported last week the Sixers are pursuing a trade package prior to Thursday's deadline that's centered around Brooklyn's James Harden. 
There's plenty of good reasons to infer a Simmons trade is imminent, and plenty of good reasons to dismiss those theories. 
The main reasons for skepticism: No superstars are truly available for trade right now, and Philly will not accept a trade for anything less. 
The main reasons for belief: The Sixers are among the top contenders in the East and have an All-NBA player who might age out of his prime quickly in Joel Embiid.
But a look between the lines reveals a layered dynamic. Zoom out and the likelihood of a Simmons trade looks different.
Has Simmons' absence hurt his trade value?
Good luck finding an NBA team that couldn't use Simmons' tremendous size, strength, length and court vision. He's a three-time All-Star (2019-21) who can effectively defend all five positions on the floor. He was named to the NBA All-Defensive first team each of the last two seasons. 
The Sixers, better than any franchise, are aware of his mercurial talent and the kind of haul they should get in exchange for him. But has the rest of the league forgotten? 
"He hasn't played all year," said an Eastern Conference executive. "Teams want to see what they're getting. And, no, those individual workouts where he's shooting threes and doing all this stuff that we never see in games won't cut it." 
Simmons must also learn how to play with a different team, with different attitudes and egos, in a different culture than the only one he has known as a player. There will be an adjustment period both in terms of playing as well as embracing and understanding his new surroundings.
Add that to the list of reasons executives don't believe teams will pay Philadelphia's asking price, which executives across the league have said is "ridiculously" high. The price? At least one All-Star-caliber player or one who is well on his way to All-Star status.
Would Simmons agree to play for Philadelphia if he's not traded?
Simmons is just the latest NBA player who has made an effort to take a firmer grip of control when it comes to his basketball career, regardless of contractual obligations. 
After Simmons' trade demand went public, his camp had reason to believe things would work out for his best interest, akin to some current NBA All-Stars essentially talking their way out of town.