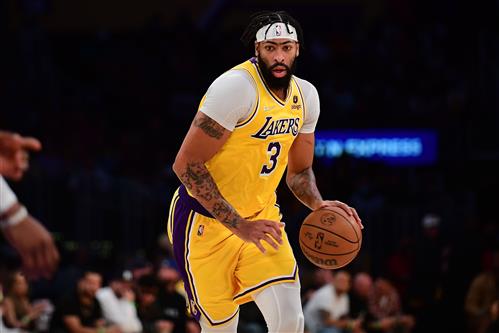 The Los Angeles Lakers made the right decision in November 2019 to make the blockbuster Anthony Davis trade. Unfortunately, two years later, the franchise is also discovering why the All-Star forward might not be a long-term star in Los Angeles.
A championship drought ended because the Lakers were willing to trade Brandon Ingram, Lonzo Ball and multiple first-round picks to the New Orleans Pelicans. He looked like an all-time great during the 2019-'20 season, especially in the playoff bubble. However, the past two seasons are proving that Davis lacks the durability and mindset to be the next face of the Lakers.
Anthony Davis bubble stats: 27.7 pph, 9.7 rpg, 1.2 spg, 1.4 bpg, 57.1% FG, 38.3% 3PT, .174 WS/48
Realistically, the Lakers must realize the clock is running out. LeBron James might walk after the 2022-'23 season and Davis's injury woes won't improve with age.
When the offseason arrives, it might be time for the Los Angeles Lakers to explore a blockbuster deal. With that in mind, let's examine four potential Anthony Davis trades.
Anthony Davis traded to Chicago Bulls
Chicago Bulls trade: Zach LaVine (S&T), Coby White, 2024 1st (top-3 protected)
Los Angeles Lakers trade: Anthony Davis
If the Lakers start exploring trades this offseason, it's a safe bet the Chicago Bulls will be near the top of the 29-year-old's list. Davis lived in Chicago, starring at Perspectives Charted High School until he enrolled at Kentucky. It's also a place he would clearly love to call home again.
"If the opportunity ever presents itself and when that time comes, I'd definitely consider it."
Anthony Davis on the possibility of playing for Chicago Bulls, via USA Today (July 23, 2019)
Chicago would certainly be interested in Davis, especially since he would provide added interior defense. While the Lakers might push to get DeMar DeRozan, creating a double homecoming, the NBA MVP candidate seems likely to remain with the Bulls. So, Los Angeles gets LaVine via sign-and-trade.
LaVine would serve as the complementary star to LeBron, really stepping up as a perimeter shooter. He's averaging 7.2 three-point attempts per game this season, hitting nearly 40% from beyond the arc. Los Angeles could pick up the team option on Coby White, providing them with a point guard to start over Russell Westbrook. Critically, White would provide outside shooting (2.4 3PM) and defense.
If LeBron leaves, LaVine becomes the focal point of the Lakers and they can use their cap space to re-sign White. Furthermore, the 2024 first-round pick can allow the front office to start collecting assets for a future deal.
Charlotte Hornets put a star alongside LaMelo Ball
Charlotte Hornets receive: Anthony Davis
Los Angeles Lakers receive: Miles Bridges (S&T), 2022 NOP 1st(top-14 protected), 2024 CHA 1st (top-3 protected), 2026 CHA, Kai Jones, James Bouknight
The Charlotte Hornets have a superstar in LaMelo Ball. For this team to take the next step, becoming a perennial contender in the Eastern Conference, he needs a complementary co-star. While Davis might not love the idea of moving to Charlotte, but an opportunity to play for a franchise owned by his childhood idol might be appealing.