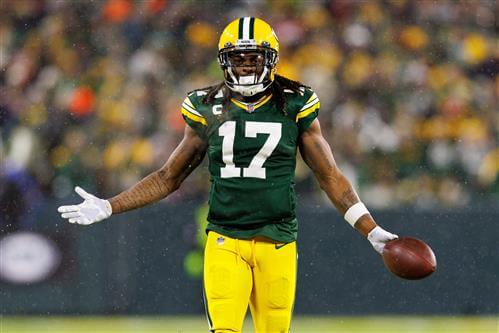 Green Bay Packers star wide receiver Davante Adams had the franchise tag placed on him last week. For the Pro Bowler, it was not an ideal scenario.
That's been magnified recently with reports that Adams has informed the Packers he has no intention of playing under said tag.
With the two sides far apart when it comes to contract terms, there's now a good chance that Davante Adams will be part of a sign-and-trade with another team.
It's an interesting scenario to look at given that Aaron Rodgers has opted to remain with the Packers. They seemed to be a packaged deal. In any event, here's a look at four ideal Adams' sign-and-trade scenarios for the offseason.
Baltimore Ravens add a top weapon for Lamar Jackson
The Baltimore Ravens haven't done enough to help Lamar Jackson. If they want him to return to MVP-caliber form, he needs a star receiver. Making a huge move to land one is also the kind of decision that shows an organization is committed to its quarterback in contract negotiations.
We know this front office isn't afraid of big trades. They've also spent first-round picks on receivers who can't provide remotely the same impact as Adams. With the cap flexibility to make something happen, this spring would be the perfect moment for Baltimore to strike.
Jackson certainly boasts the arm strength and touch to hit Adams deep. But acquiring the best wide receiver in the NFL is about so much more. When Baltimore faced Adams, it bracketed him with tight double coverage. If teams do that with Adams in a Ravens' uniform, Marquise Brown torches them deep. The Adams-Brown pairing with Mark Andrew at tight end would be an excellent trio of weapons for Jackson.
New York Jets make a splash
So many things went wrong for the New York Jets' offense in 2021. Zach Wilson didn't show many signs of being a franchise-caliber quarterback, but the surrounding factors around him didn't help. The Jets can start changing that by drafting a top offensive tackle at No. 4 overall, but Wilson also needs a top pass-catcher.
A deal like this would be a bit unconventional. New York wants to trade down from the 10th pick, focused on acquiring more draft capital. In this scenario, New York slides down to the 28th pick and also moves down in the second round. But they get an All-Pro receiver in the prime of his career.
It would be costly, but it still puts New York in a great position to build around Wilson. The Jets can grab offensive tackle Evan Neal or Ikem Ekwonu with their top first-round selection. At the end of Round 1, New York could snag a cornerback like Roger McCreary. Two positional needs filled and an elite weapon added, that's an ideal outcome.