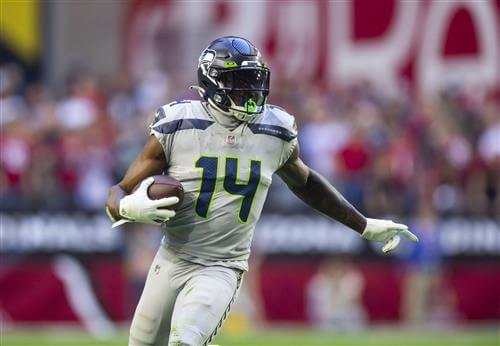 Seattle Seahawks wide receiver DK Metcalf is one of the most dangerous vertical threats in the NFL. But with the franchise entering a pivotal point this offseason, weighing a rebuild vs. one last run, things could change dramatically in the spring.
The focus right now in Seattle is trying to convince Russell Wilson to stay. He is open to a return, but the Pro Bowl quarterback wants to explore his options. With a philosophical divide already existing between Wilson and head coach Pete Carroll, the possibility of a blockbuster trade becomes even more likely.
DK Metcalf contract: $1.459 million cap hit (2022), 2023 free agent
Trading Wilson would inevitably signal a rebuild for the Seahawks. A franchise without significant draft capital and having a number of holes to fill on the roster would be in a difficult spot. With Metcalf poised to become a free agent in 2023, this offseason could be the time for Seattle to make a move.
Let's dive into four potential landing spots if DK Metcalf is traded this offseason.
DK Metcalf gets fresh start with Cleveland Browns
Cleveland will be seriously evaluating its quarterback in the offseason, exploring upgrades over Baker Mayfield. With that said, it's very possible the franchise settles for giving its former No. 1 overall pick another season. If that happens, expect the front office to aggressively pursue a top wide receiver.
Metcalf showed visible frustration in 2021, bothered by the constant losing and a fluctuating role in Seattle's offense. While he led the team in targets (129), a 58.1% catch rate and 10 games with fewer than six receptions diminished his production. With Tyler Lockett seemingly becoming a bigger priority in the offense, Metcalf might want to be the go-to weapon in a new offense.